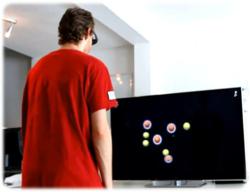 we're one of the first in the world to apply the capabilities of 3DTVs to something big that's not just entertainment
(PRWEB) February 26, 2013
In a key study published in Nature, over a hundred world-class sports stars showed they had drastically better visual learning than amateur athletes, who in turn learned faster than university students. The study used NeuroTracker, a perception training system developed by CogniSens that runs on a 65" 3DTV to test and improve visual attention skills used in team sports.
"We were not surprised to see the initial results correlate with levels of sporting ability, but we were amazed to discover actual learning capacity to be such a pivotal marker" said Dr.Faubert who developed the science behind the technology in his leading neurophysics lab. "There's two things about 3DTVs that are perfect for NeuroTracker, they provide the wide field of view we need for testing peripheral vision, and they allow multiple object tracking in 3D. Our research in the lab shows 3D is absolutely critical when you track at speed, and we have to activate the visual centres of the brain in the same way they're used in sports."
Spreading fast, NeuroTracker is used to boost performance across the top tiers of sports and NCAA, and to helps team scout fresh talent at NFL and NHL combines. The 3DTV platform is also being implemented in the US education system to improve learning attention.
"We're all about making use of cutting-edge technology, it's getting cheaper and more powerful all the time", commented Jean Castonguay, CEO of CogniSens, "which means we can reach more people with our science and boost their cognitive abilities in new ways. With NeuroTracker, we're one of the first in the world to apply the capabilities of 3DTVs to something big that's not just entertainment."
A neuro-technology company, CogniSens has also fully integrated the Microsoft Kinect to work with 3D to allow physical reactions to be tested while under cognitive pressure. The Kinect on the 3DTV allows virtual objects to be interacted with that actually come right into the user's personal space. CogniSens also offers NeuroTracker through the Sony HMZ-T2, which has drastically reduced the costs of virtual head mounted displays. Like the 3DTV, the HMZ offers HD 3D across a wide field of view, but in a portable, laptop based format that allows athletes to train even while on the road.
CogniSens Athletics
CogniSens Inc. is a science-based company that measures, manages and improves neurological activity. In collaboration with the world-leading visual psychophysics and perception laboratory at the University of Montreal, CogniSens has developed patented technologies that enhance the mental performance of athletes and servicemen.