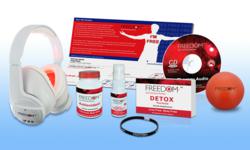 Craig Nabat former smoker and President of Freedom Laser Therapy says, "Regardless of the size of the company, implementing an employee smoking cessation program and providing support for your employees makes good business sense."
Los Angeles, CA (PRWEB) February 26, 2013
Freedom Laser Therapy launches new quit smoking system for corporations to snuff out smoking in the workplace. Freedom is the nation's leading nicotine addiction clinic headquartered in Los Angeles, California has been offering a 30-minute low level laser procedure. Over the past decade Freedom has treated thousands of smokers who sought help to break their nicotine addiction. Since Freedom's inception, corporations have contracted Freedom Laser Therapy to deploy mobile treatment teams in an effort to reduce the number of smokers on staff and improve their employees' overall health. During these mobile treatment team deployments Freedom has treated as many as 60 employees in a single day; corporations would pay $250-$350 per smoking staff member depending on how many employees were being treated.
Freedom Laser Therapy has now invented a 10 day nicotine free and all natural at home quit smoking system. Now for $99.99 corporations can cost effectively implement a multi-faceted smoking cessation program to decrease the number of smokers at their companies. The new Freedom Quit Smoking System consists of the following support tools which were discovered and developed from years of experience assisting smokers how to break nicotine addiction.
1) A FDA regulated homeopathic oral spray with ingredients traditionally used to temporarily relieve cravings.
2) The wearable Freedom Relaxation Headset that utilizes LED technology and tranquil music
to stimulate acupressure points in the ears intended to soothe the users mind and body. Used for 12 minute sessions over a 10 day period.
3) Freedom Quit Smoking Therapy 45 minute audio CD helping to modify behavioral patterns associated with nicotine addiction.
4) Two proprietary antioxidants to support the body's natural fight against toxins.
5) Freedom Aversion Therapy Wristband and stress ball.
Cigarette smoking is the leading preventable cause of death in the United States. Smoking is responsible for one in every five American deaths. Tobacco causes more deaths in the United States than AIDS, alcohol abuse, automobile accidents, illegal drugs, fires, homicide, and suicide combined.
In 1968, approximately 50% of Americans were smoking, now the national average is 19.2%. Companies all across the United States are becoming aware of how smoking employees negatively affect their company's bottom line. The growing trend to become more health conscious has hit corporate America. The cost of an employee who smokes is significant to an employer. Some antismoking advocacy organizations, such as Action on Smoking and Health, known as ASH, say that smokers' medical costs are $3,000 a year higher than nonsmokers, and that lost productivity due to illness and smoking breaks during the day raises the added cost of employing smokers to about $5,000 a year per smoker.
Employers endure increased health care costs associated from their employees' smoking. Indirect costs can mount for employers due to lost productivity, absenteeism, new employee recruitment, and retraining of new staff. Many corporations across the United States are now implementing non-smoking policies in efforts to create a healthier, more productive and cost effective work environment.
Craig Slogan, Vice President of CRS Service, Inc. manufacture of hydraulic equipment sent his employees to Freedom Laser Therapy. Slogan says, "There is nothing positive about this habit, and if I can help the people that I work with overcome this addictive negative behavior, I'll do whatever I can to help them." Slogan also states, "I believe in positive reinforcement and strongly supporting my dedicated team of employees."
Companies benefit in many ways by assisting their employees in ending their nicotine addiction. Corporations experience a significant decrease in the costs of their health and life insurance policies by reducing the number of smoking employees. Employers spend almost double on their health care benefits for smoking employees due to the increased risks for disease and illness. In addition, smokers can cause strained relationships between smoking and non-smoking staff, constant work breaks and inefficient use of company time cause conflicts between fellow employees. Also, second hand smoke can endanger the health of the entire company and your customers. Overall, a smoke free work environment creates better working conditions for the employer, staff, and customers.
Freedom Laser Therapy is driven to influence corporate leaders to implement the Freedom Quit Smoking System to assist their employees who require help to break free of nicotine addiction. Craig Nabat former smoker and President of Freedom Laser Therapy says, "Regardless of the size of the company, implementing an employee smoking cessation program and providing support for your employees makes good business sense."