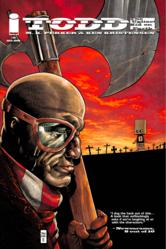 Los Angeles CA (PRWEB) February 26, 2013
The second issue of Todd, the Ugliest Kid on Earth—the story of an infectiously upbeat kid caught in an epically dysfunctional world—continues the success of first issue, which sold out in pre-order and was immediately slated for a second print run. The second printing of the second issue is scheduled to be in stores on March 27th, and features an intro by early Todd fan Danny Trejo, who read the comic when he found out that one of the characters—Caesar—was based on his old friend, famed convict-writer Eddie Bunker.
The title continues to receive critical praise with its second issue:
"Todd, The Ugliest Kid on Earth is so wrong it circles back around and becomes so, so right. If you don't have a slightly askew sense of humor you'll find this more offensive than hilarious, and that's your loss. Todd is one of the rare books that's a good read AND a fun ride."
-Comic Book Therapy
"This title continues to be one of my favorite this year. The team on this book are layering all sorts of different meats and cheeses and using all kinds of spicy condiments to serve up one hell of a sandwich, and you know how much I like sandwiches."
-Comics Bulletin
"If you like your humor dark and your satire biting, then you should check this one out. Four and a half Disturbing Prison Groupies out of Five."
-Fanboy Comics
"It's an insane premise with oddities all over the place, but it's intelligently put together and is heavily entertaining.... Don't let this pass under your radar."
-Comic List
The third issue of Todd, the Ugliest Kid on Earth, will be in stores on March 13.