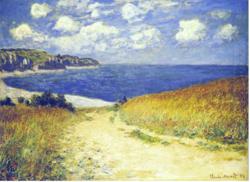 (PRWEB) February 27, 2013
When referring to home decor, a number of customers will think of oil paintings, especially land oil painting. As no matter the season or place landscape paintings depict, one'll be transported to a place of beauty. However, it's not easy to decide between landscape oil paintings because they are so unique and pretty. Every artist paints a different style. Sometimes these canvas oil paintings are so unique they might be considered an abstract landscape oil painting. Below are the five key tips Christine, Artisoo gallery sales director, has recently suggested for those who hope to pick the perfect landscape oil paintings.
1. Size of the piece. One should have a general size in mind when searching for before stepping into a store or starting doing some online shopping. Measure the wall one would want to put the painting on. In measuring, make sure that one should be certain especially with the height of the painting and the center of the wall. It is better if one has an existing painting that wants to replace, measuring the painting will offer the exact measurement. If one just imagining how a painting would fit the wall, make sure that one has the right picture in mind, or else one will make injustice to the painting.
2. Colors of the landscape painting. In choosing the right theme and color scheme, make sure the room and the artwork complement each other. The color of the painting has to be in harmony with the room function. If one plans to hang several landscape paintings from various artists, one can arrange them in a way that they depict a series or a story to create a flow. Sometimes it is hard to do this with different sets of landscape art especially if the themes clash.
3. Style of the landscape oil paintings. There are many different styles of art and each one has its own meaning and its particular way of conveying thoughts and feelings. The subject of the oil painting can match whatever design or theme one has in a specific room or the entire house. A modern house must have a painting that will complete the modern design. Baroque and medieval inspired painting will simply go with houses having classic designs. The material of the painting is also important if one has a specific effect one want to achieve. One has to find a wonderful style that fits for both personality and the feeling one wants the room to end up having.
4. Design of the landscape paintings. Many times one will be instantly drawn to a beautiful oil painting that seems perfect for one r room. It might seem that way at first but after some time it might not be the right thing for the space. Such as landscape paintings various in depicting mountains, water, villages, and trees, and so on. Think long and hard about the design one is searching for and how that design must look before buying anything.
5. Price. One should always set a budget for the home décor project. If one happens to like oil paintings, there are some excellent options to be able to get these for less and one of the finest means to go is to look into the savings that come with buying fine reproductions. This is a magnificent way to cut down costs and get the kind of paintings that one would like to have at the same time, even some of the world's most well-known and overpriced artists. If one admire landscape painters like Seurat, Monet or Van Gogh, then it is absolutely easy to find a lot to adore with these types of low cost fine art reproductions.
With the advice above, one should now be ready to make a choice. Choose wisely and choose the landscape painting stress free and with great results. Now it is time to purchase landscape painting reproductions for house décor.
Founded in 2009, Artisoo.com has become a leader in offering Canvas painting reproduction, Chinese painting and custom artwork at affordable prices. Growth has continued at an incredible pace and looking for more improvements in their e-commerce store. For more information, please visit their website at http://www.artisoo.com/