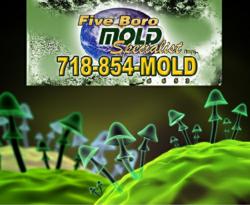 NYC Mold Inspections Company, Five Boro Mold Specialist, Contributes to Community Via NYC Mold Abatement Philanthropic Efforts
(PRWEB) February 28, 2013
Low income homeowners, with homes flooded by Hurricane Sandy, are turning to an experienced mold remediation firm and the new fund Motty Katz started for help cleaning up their properties, as technicians from the Five Boro Mold Specialist firm donate time, money and effort.
After flooding homes in NYC, Hurricane Sandy left an appalling footprint, toxic mold infestations. Property owners turning to FEMA found that their homes were covered only up to the actual flood waterline. Often, their insurance companies denied their claims, saying that "Super Storm" damage is not covered under issued policies. Home owners have to find the funds themselves to clean up, salvage and repair their properties. The cost of mold remediation alone can total in the thousands. The houses cannot pass inspection, so new bank loans to get the work done are denied. Without his or her own source of funds, a homeowner is unable to do anything to make it right, and may even be forced to sell their homes. Until Motty Katz brainstormed a great idea – the "Hurricane Sandy Mold Relief Fund!"
The "Hurricane Sandy Mold Relief Fund" provides for low income families, whose homes are inundated with toxic mold, with funds and services to get the mold mitigated. Katz and the technicians from his firm, Five Boro Mold Specialist, are donating time, money and effort to help the community. Over 50 low income homeowners have already been helped by Five Boro Mold Specialists and their technicians. Additional help is needed, too, people and volunteers can donate to the fund that makes the mold remediation possible for low income families. There is an application for homeowners, renters, and people that want to help that can be submitted on the site or through email.
The Hurricane Sandy Relief Package offered by Five Boro Mold Specialist includes sending a team of certified technicians to do air tests, take air samples, collect two swab samples, that are sent to an independent laboratory, a professional NYC mold inspections report, and an estimate on the NYC mold removal services.
Five Boro Mold Specialist has over twenty years of experience providing environmental services to NYC, and offers homeowners their trademark two year warranty. In the past, homeowners have been able to leverage the warranty for free services or for tremendous discounts on normal rates. It's another perk Five Boro Mold Specialists offers its clients in exchange for customer loyalty, and in light of the terrible damage done by Hurricane Sandy. When Spring arrives, a mold outbreak is bound to come with it, and the health and safety of all of NYC is up to people like Motty Katz and Five Boro Mold Specialists.