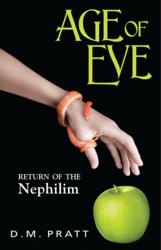 "Female empowerment has been my battle cry since I started writing as a teen, and has continued throughout my professional writing career," said D.M. Pratt
Los Angeles, California (PRWEB) February 26, 2013
Fallen angels, voodoo magic, and intense passion combine in the first paranormal romance novel from Quantum Leap co-creator D. M. Pratt. BroadLit, a company introducing a new slant on romance, is publishing today, February 26, 2013, the first novel in award-winning D. M. Pratt's new romantic thriller series Age of Eve: Return of the Nephilim. The series introduces readers to a passion of mythological proportions that will captivate the reader's body, mind and soul. At BroadLit's online romance hub TruLOVEstories.com a downloadable free chapter is available.
The first book in Ms. Pratt's paranormal series introduces the heroine. Eve Dowling, a talented writer for a successful magazine that covers New Orleans society events, is leading an exciting life filled with friends, family and work—until it is turned upside down by a fateful encounter with a stunningly handsome mystery man who ignites her most sensual fantasies. When Eve awakes naked, sexually ravaged and alone in the garden of one of New Orleans' most historic homes, she begins her search to uncover who this mystery man really is. She tracks him through the dark side of Old Algiers with the aid of one of its most famous Voodoo priestesses to an abandoned sanitarium in the heart of the swamplands surrounding New Orleans. It is there she first confronts two creatures, first described in ancient Hebrew and Christian texts as the Nephilim or "fallen sons of God," who vie to possess her body and soul and keep her from true love with her mystery man. Is Eve's battle with the Nephilim to save her mystery lover—and her own life—real or imagined? Does Eve really hold a key to saving humanity from a loveless existence? Or is it all simply a nightmare dream? And Book One in this series is only the beginning.
Nancy Cushing-Jones, BroadLit's Chief Publishing Officer, is pleased to announce this latest romance series acquisition. "I had never heard of Nephilim until I read Ms. Pratt's novel and now I hope to never meet a Nephilim in real life—meeting two of them on the printed page is enough excitement for me!"
According to Ms. Pratt, "Female empowerment has been my battle cry since I started writing as a teen, and has continued throughout my professional writing career. I wrote several books and screenplays in the early '90s and was told that a female protagonist who didn't get saved by a man would never happen in reality, much less in a movie. I actually remember being asked when a guy was going to save her. Now much has changed thanks to the huge success of female driven, strong, heroine-based stories in literature and films today. I'm thrilled by these changes because I believe women are the salvation of the planet."
Take the Nephilim pop quiz and read an interview with the author of Age of Eve on TruLOVEstories.com.
Ms. Pratt is a five-time Emmy nominee, a Golden Globe nominee and short listed for the Academy Awards for her live action short film Girl Friends. She has received the Lillian Gish Award from Women in Film, The Angel Award, The Golden Block Award, and six B.E.N. Awards. As Co-Executive Producer and Head Writer for the ground-breaking series Quantum Leap television series Ms. Pratt wrote 25 episodes and co-wrote an additional 15 episodes. She made her directorial debut on Cora Unashamed for the BBC's Masterpiece Theatre's The American Collection, which aired on both PBS and the BBC.
Age of Eve: Return of the Nephilim is now available for pre-order (at $8.99 ebook, $14.99 paperback) on all major e-retailers, including Amazon, Barnes & Noble, Kobo, as well as on AllRomance.com and on BroadLit's own branded romance hub TruLOVEstories.com. All BroadLit books are distributed by Perseus Books' Constellation Services.
ABOUT BROADLIT
BroadLit is unique in that it brings to the market a combination of classic and new romance material through its many multi-media channels. BroadLit's website hub, TruLOVEstories.com, is specifically designed for women looking for a little romance seasoned with humor. The site offers novels, stories, games, merchandise, contests, videos and other opportunities for building a strong community.
In addition to bringing back to life the assets of True Romance and True Love Magazines in the TruLOVE Collection series, BroadLit is also publishing original contemporary romance novels and mobile games for women. BroadLit is a Los Angeles based company launched by the owners of Broadthink, a boutique branding and new business development media company.
Media Contact
Stacia Kirby
+1-206-363-1492
Stacia(at)speakeasy(dot)net
Title:
Age of Eve: Return of the Nephilim
An Age of Eve Novel
Author: D. M. Pratt
Published by: BroadLit
Published: January 26, 2013
Fiction: Paranormal Romance
Digital
Price: $8.99 USD, $9.99 CAN
ISBN# 978-0-9859596-8-5
Print
Price: $14.99
ISBN# 978-0-9859596-9-2