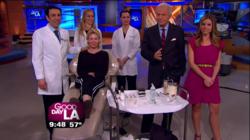 Los Angeles, CA (PRWEB) February 27, 2013
According to an article in the February 2013 edition of New You magazine, extreme beauty treatments are being used by beauty practitioners across the world in a bid to beat the aging process. Dr. Simon Ourian, Medical Director of Epione Beverly Hills discusses whether some of these treatment might have a place next to traditional aesthetic procedures such as laser skin resurfacing and Botox.
"These treatments illustrate the lengths people will go to pursue the ideals of youth and beauty," says Dr. Ourian. "As a physician, of course, I would have to investigate the merits and potential side effects of any treatment before I could recommend it."
The Siberian Snail facial places African snails on the face, allowing them to crawl around and brush it with slime. The slime is rich in proteins, elastins, and glycolic acids and is biologically intended to protect snails from tissue damage, infections and UV rays. This is reported to work wonders for the human face. A more palatable version of slime is now part of select cosmetic preparations.
While snails can make the treatment option quite repulsive, those who prefer to challenge their fear might consider Leech Therapy in Austria. Specially farmed leeches, approved by the FDA when applied to the skin, are reported to improve blood circulation. Anticoagulant or blood thinning properties of leech saliva help clean toxins from the body.
Pigeon Poo Facials from Japan are said to be rich in nitrogen, the amino acid guanine known for ability to heal and brighten skin, and other natural enzymes. Processed nightingale droppings are also readily available in over-the-counter cosmetics.
Slightly more comforting are the routines of Vinotherapy in France, in which regular bathing in red wine is said to boost blood circulation. Polyphenols from grapes are effective antioxidants that ward off premature aging.
"There is no limit to human inventiveness," says Dr. Ourian. "Some of these treatments seem fantastic to me, but I wouldn't be surprised to find that some have a solid scientific basis."
Dr. Ourian has been a pioneer in laser technology and non-invasive aesthetic procedures including Restylane, Juvéderm, Radiesse and Sculptra. These treatments are used for the correction or reversal of a variety of conditions such as acne, acne scars, skin discoloration, wrinkles, stretch marks, varicose veins, cellulite, and others. More information about extreme treatments can found on Epione's website.