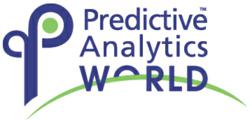 San Francisco, CA (PRWEB) February 27, 2013
Take one challenge – "develop an algorithm to predict and prevent unnecessary hospitalizations" – pit data scientists against each other in a $3 million international competition and what do you get? The answer is revealed at Predictive Analytics World (PAW) in San Francisco, CA, from April 14-19, 2013.

Early Bird Savings end March 1, 2013 – don't miss out on the chance to save up to $400 on registration prices.
In 2011, the Heritage Provider Network (HPN) launched the $3 Million Heritage Health Prize. The task for predictive analysts was simple:
Create an algorithm that predicts how many days a patient will spend in a hospital in the next year using historical claims data.
With this important information in hand, health care providers could then develop new care strategies to reach patients before emergencies occur, thereby reducing the number of unnecessary hospitalizations.
On April 15, 2013, Anthony Goldbloom, CEO of Kaggle, will be discussing the results of the two-year contest and lessons learned from the experience. Do incentivized competitions deliver results? Are there other industry areas where a model like this would work?
Goldbloom's fellow keynote speakers – Rayid Ghani, Chief Data Scientist for Obama for America, and Edward Nazarko, Chief Technical Advisor for IBM – follow him over the next two days, making PAW San Francisco one of the most high-powered (and highly anticipated) analytics conferences of 2013.
A special plenary session, pre- and post-conference workshops, expert panels and 35+ session case studies from top companies like Dell, HP, IBM, Monster, Netflix, Orbitz and many more round out the agenda.
EARLY BIRD SAVINGS
Register before March 1 for PAW San Francisco (April 14-19, 2013) and save up to $400 off the full price.
View the full agenda and see all the in-depth sessions available.
About Predictive Analytics World
Predictive Analytics World is a world-renowned, business-focused event for predictive analytics professionals, managers and commercial practitioners. This conference delivers case studies, expertise and resources to achieve:
Bigger wins: Strengthen the impact of predictive analytics deployment
Broader capabilities: Establish new opportunities in data science
Big data: Leverage bigger data for prediction and drive bigger value
The only conference of its kind, Predictive Analytics World delivers vendor-neutral sessions across verticals such as banking, financial services, e-commerce, entertainment, government, healthcare, high technology, insurance, non-profits, publishing and retail.
About Rising Media
Rising Media is a global events producer excelling in Internet and technology-related conferences and exhibitions. Rising Media-produced events include Data Driven Business Week, eMetrics Summit, Context Conference, Conversion Conference, DemandCon, GAUGE, Predictive Analytics World, Text Analytics World, Affiliate Management Days, Building Business Capability, Social Media Economy Days, Web Effectiveness Conference, Search Marketing Expo, SemTech and Social Gaming Summit in the US, Canada, UK, France, Germany, Sweden, Finland and Australia.