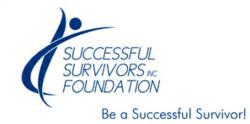 50% of foster youth will be homeless within the first year of aging out of the U.S. foster care system. But it doesn't have to be that way.
Newport Beach, CA (PRWEB) February 28, 2013
There is a subsection of the population in the US whose unemployment rate is estimated to be over 50%. It is the population of former foster youth, which Foster Care Alumni of America estimates at 12 million. An estimated 20,000 young people age out of U.S. foster care system every year without a permanent family connection. Over 50% of these young people will be homeless within the first year of emancipation. Homelessness often leads to drug dealing and use and human trafficking, commonly referred to as prostitution. The Pew Charitable Trust reports that the cost of child abuse in the United States is estimated at $284 million per day.
To break the cycle of poverty and abuse through life skills training, family education, and adoption, Successful Survivors Foundation has partnered together with child welfare professionals to create the "You Are Not An Accident" program. "You Are Not An Accident" is a nine-month program which will be provided free of charge to communities throughout the United States. The program will build bridges between churches and their local child welfare services and the foster kids in their care. Foster teens aged 16 and up will be invited to participate in this program which will introduce them to volunteers from local churches who will help them uncover the skills, talents, and abilities each teen has that will help them in the workplace.
Teens will graduate from the program with the skills needed to succeed in their relationships, their spiritual life, their education and career. They will have an understanding of how to be a good employee and why it's important to do so.
Successful Survivors Foundation is a non profit organization that exists to help survivors of abuse succeed specifically because of what they've been through. By mining the lessons from the pain and applying them to their lives, by learning work ethic, and by developing their positive character traits, survivors of childhood abuse can become Successful Survivors. For information on the You Are Not An Accident Program or to bring the program to your community, go to http://www.successfulsurvivors.org or contact rhonda(at)rhondasciortino(dot)com.