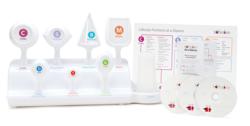 Portion control is the best 'first step' in a weight loss program. Once you get the weight off, then you can address specific nutritional concerns.
Los Angeles, CA (PRWEB) February 28, 2013
Lifesize, the inventive weight loss system that uses a new twist on portion control to help people lose weight, was singled out by the lifestyle website, About.com, as the long-term solution to losing weight and keeping it off. Citing the flexible system and measuring cups for portion control, columnist Malia Frey validated Lifesize in her review, saying the "system's flexibility means that users can lose weight even if they follow a specific food plan. Low-carb dieters, gluten-free eaters or vegetarians, for example, can use the program and still lose weight." Frey had named Lifesize at the "Good Product" for weight loss in 2013, without having used the product. She then chose to use the Lifesize system to successfully lose weight after being on vacation and wrote about the pros and cons of it in her column on About.com.
"Many dieters struggle with shame when they start a diet," Frey states in her article. "Coming to the fact that they have to change their food choices can imply that their previous habits were wrong."
Lifesize is a complete, easy-to-follow weight loss system that uses unique portion sizes and guidelines for all the foods people enjoy eating. Developed by Myles Berkowitz and Steven Kates, these special portions were developed by studying the eating habits of people who do not have weight problems.
On Lifesize, dieters can eat the same foods that they always ate. But using the Lifesize patented portion measurement system, dieters can eat all the foods they love but learn to eat less of them. The Lifesize eating plan is designed to keep users happy and satisfied. As Berkowitz states, "Dieters can eat whatever they want, just not as much of it. By following our plan and using our measuring devices, users will consume fewer calories per day because they will feel more satisfied and not need to graze during the day."
One concern Frey had about Lifesize was the lack of nutritional information included in the program. When questioned about this, Berkowitz replied that "portion control is the best 'first step' in a weight loss program. Once you get the weight off, then you can address specific nutritional concerns." Frey believes that Berkowitz's response "has merit. There is plenty of evidence to support the fact that even a small weight loss can improve a dieter's risk for disease. And an initial weight loss can also boost self-confidence in a way that may inspire the dieter to make further changes to improve their health."
Berkowitz explains: "What people have to understand is that there is a difference between eating healthy and losing weight. Both are important goals, but most people are only going to be successful at both if they do them in phases. First, lose the weight. And when it comes to losing weight, the best shot you have is if you just focus on one thing. Forget about changing what you eat or where or when you eat. Just focus on how much you eat."
Frey was skeptical when she first tried the system because, as she wrote on her blog on February 25, it seemed "counter intuitive to eat dessert, for example, and still lose weight. But the system really worked for me." In interviewing Berkowitz, she asked how they developed the portion sizes. He explained that partner, and fitness expert, Steven Kates, studied the eating habits of thin people. "He didn't look at the people who exercised excessively or the people who starved themselves to slim down. Steven looked at the eating habits of thin people who maintained their weight and he found that there were consistencies in the portion sizes of the foods that they ate."
Berkowitz, a Los Angeles-based actor and filmmaker, met Kates in Los Angeles, five years ago when Berkowitz was overweight. Using Kates' portion control system, he successfully lost 46 pounds and has kept it off for almost 5 years. Lifesize was brought to the marketplace a year ago and in that time thousands of people have used Lifesize to successfully lose weight.
Lifesize has been featured in numerous media outlets in states across the country. It was recently named one of the handy kitchen tools for weight loss on FitBie.msn.com, the healthy lifestyle website from Rodale Press and MSN.com, and profiled in the Los Angeles Times, the New York Times, The Huffington Post, ABC-TV, CBS News, and local Los Angeles television news. Bloggers across the country have been using the system and blogging about their results with great success.
Currently Lifesize is available for purchase online, http://www.LifesizePortions.com for $79.99, plus shipping and handling. The company is looking to expand to retail outlets this year. To view videos, and learn more about the Lifesize system, go to their website, http://www.LifesizePortions.com.
FOR MORE INFORMATION, TO SCHEDULE AN INTERVIEW AND TO REQUEST A LIFESIZE KIT FOR REVIEW, CONTACT:
Trina Kaye – The Trina Kaye Organization 310-915-0970 / TrinaKaye(at)tkopr(dot)com
Myles Berkowitz is a filmmaker with over 30 years of experience in the film and television industry as a writer, actor, director and producer. He has developed and produced television and film projects for such companies as Warner Brothers, Sony, CBS, ABC, and The Henson Company. His film 20 Dates won the Slamdance Film Festival and was bought and released worldwide by Fox Searchlight. 20 Dates was a technological breakthrough - the first movie to be shot digitally. Myles graduated with a degree in political science from the University of Pennsylvania and studied marketing at the Wharton School of Business.
Steven Kates has been at the epicenter of LA's fitness and personal training industry for the past 30 years. He designed and operated the first chain of Nautilus work-out centers located in Los Angeles, Beverly Hills and Hollywood. Additionally, Steven was a critical part of the group that gave birth to and commercialized aerobics, spinning, and personal training. Steven also received a biology degree from UCLA.