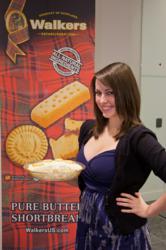 HAUPPAUGE, N.Y. (PRWEB) February 26, 2013
Eight accomplished and acclaimed New York City area food bloggers gathered on February 11th at the headquarters of the National Association for the Specialty Food Trade (NASFT) to offer judges a chance to assess their original dessert creations incorporating classic Walkers Shortbread cookies. Walkers Shortbread, the iconic Scottish brand, supplied the bloggers with a variety of products to experiment with.
The recipes were judged by well-regarded food industry professionals, including:

Corina Elgart, owner of Taste bakery on Long Island and finalist from the first season of TLC's "The Next Great Baker"
Denise Purcell, Editor for Specialty Food Magazine
Eva Meszaros, Associate Editor for Specialty Food Magazine
Each entry was evaluated for taste, appearance, creativity, level of difficulty and overall visual appeal. With this criterion, all of the entries submitted were unique dessert recipe ideas using several different Walkers Shortbread products. Some of the outstanding recipes included Walkers' Vanilla Shortbread baked into a "Japanese Green Tea Cheesecake," Almond Shortbread into the "Chocolate Pear Custard with Almond Shortbread Crust," and the traditional Shortbread Fingers used for the "Hazelnut Banoffee Tartlets." The Walkers product line features so many different varieties that the possibilities for creating delicious desserts are endless.
The winning recipe, Honey and Vanilla Shortbread Pie, prepared by Kayle Blogna of The Cooking Actress (http://cookingactress.blogspot.com/), used Walkers Highlander Shortbread and Pure-Butter Vanilla Shortbread in her recipe. As a result, Kayle took home a $500 American Express gift card and a Walkers Gift Bag featuring an array of gourmet food and tools to assist with future recipe development.
"I loved the challenge of this recipe contest," says Blogna. "I had no set expectations for winning, it was just so much fun to be able to experiment with Walkers Shortbread's products, and see what I could do; it was truly an upbeat experience with amazing people. I was able to try so many spectacular desserts, network with my peer bloggers, and meet the Walkers' folks."
Contestant creations were professionally photographed and will be featured along with their recipes in the recipe section of http://www.walkersus.com, as well as on the Walkers' Pinterest boards, and on branded recipe cards that will be found in stores.
For more information about Walkers Shortbread and how to cook with their all-natural and GMO-free products, please visit http://www.walkersus.com. Walkers products can be purchased online directly from Walkers, and at select retailers nationwide.
###
About Walkers Shortbread
Walkers Shortbread was founded in 1898 and is the leading brand of food exported from Scotland. The family-owned company still bakes its shortbread, traditional cookies, cakes, oatcakes and puddings in the secluded village of Aberlour in the Highlands of Scotland. Walkers products contain no artificial flavorings, colorings or additives: are GMO-free: and its shortbreads, cookies and oatcakes are certified kosher OUD. For more information, please visit http://www.walkersus.com.