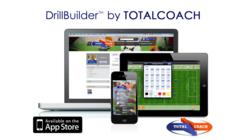 Basketball Coaches now have access to a Digital Playbook just like the Pros.
San Jose, CA (PRWEB) February 28, 2013
TotalCoach is pleased to introduce a Digital Playbook for Basketball by combining web-based team management with an iOS App, all synchronized with secure cloud-based storage and back up, at totalcoach.net. Using the DrillBuilder App, coaches use players from their own team roster in basketball drills and plays. Assistant coaches and players can be granted secure access to the Team PlayBook by the Head Coach. Game Plans and Practice Plans are saved in the Team Playbook that is accessed anywhere, anytime on the DrillBuilder App for iPhone or iPad.
"Basketball Coaches now have access to a Digital Playbook, just like the Pros," states Dean Tait, Founder, TotalCoach. "We are focused on providing the very best technology tools to make basketball coaches more efficient and effective with their athletes."
DrillBuilder is available for iPad and iPhone. Using industry-leading technology, DrillBuilder allows coaches to create fully-animated, multi-player movement practice drills and game plays. Coaches create and share drills and plays with other coaches, players or parents. Coaches can download free or premium drills or plays from the DrillStore within the App or at totalcoach.net. The bird's eye view shows athletes exactly what they need to do in order to perform each drill or play successfully.
About TotalCoach:
Founded in 2011, TotalCoach's mission is to instill a lifelong love of sport in athletes by providing amateur sport coaches with the latest technology tools to make them more efficient and effective. By providing a better coaching experience, TotalCoach promotes LTAD (Long-Term Athlete Development) and creates a life-long love of sport in young athletes. Staying active and participating in team sports plays a large part in a person's development and a healthy lifestyle.
Copyright (C) 2011-2012 TOTALCOACH, LLC. All Rights Reserved. Apple, the Apple logo, iPhone, and iPod are registered trademarks of Apple Inc. in the U.S. and/or other countries. Other trademarks and registered trademarks may be the property of their respective owners.