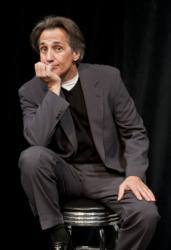 "There are two kinds of people who should rush and see it: men and women."
Detroit, MI (PRWEB) February 28, 2013
Robert Dubac brings his scorching and hilarious look at the differences between Men and Women to the Macomb Center for the Performing Arts on March 2nd! To celebrate, Robert and the Macomb Center are giving away two pairs of tickets to each show - 2PM and 8PM.
To enter, "Like" Robert's Facebook page or Follow him on Twitter @robertdubac. Each SHARE or RE-TWEET is another entry in the contest.
Dubac isn't one to bash men or women. He zings both equally and without hostility. He makes the process funny and entertaining, and his sharply written, nicely put together, skillfully presented show certainly is that. It is adeptly conceived, refreshingly and comically stated, and he has no trouble keeping it up for a quite diverting 90 minutes.
Don't miss the opportunity to see The Male Intellect which is at The Macomb Center for one day only on March 2 for two shows - at 2:00PM and 8:00PM. The Male Intellect is a crafty and thought-provoking concoction, a show of emotional depth and understanding. Dubac has a winning charm and the play has a doozy of an ending.