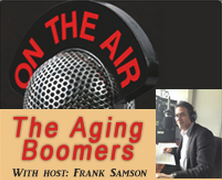 Our goal is to feature experts in various areas relative to the issues boomers and their parents are confronted with on an everyday basis
Sonoma, CA (PRWEB) February 28, 2013
The Aging Boomers Radio Show is entering its third year of providing educational content to its listeners worldwide. Though the broadcast airs live out of the KSVY Radio Station in California, the show can be listened to online each Monday from 2pm-3pm PST.
"Our goal is to feature experts in various areas relative to the issues boomers and their parents are confronted with on an everyday basis including senior care, nutrition, insurance, financial and estate planning," said Frank Samson, founder of Senior Care Authority and host of the show.
On February 19th, Dr. G. Allen Power, MD, a board certified internist and geriatrician, was interviewed on his book, Dementia beyond Drugs: Changing the Culture of Care, which won a 2010 Book of the Year Award from the American Journal of Nursing, and a Merit Award from the 2011 National Mature Media Awards.
Upcoming interviews with authors:
March 4th – Martha Stettinius, author of the book "Inside the Dementia Epidemic: A Daughter's Memoir" – This memoir tells the personal story of Martha's long journey as a caregiver to her mother with dementia, while exploring the causes and potential treatment and prevention of Alzheimer's disease.
March 11th – Alex Witchel, author of "All Gone," a Memoir – Alex is a staff writer for The New York Times Magazine and though unexpectedly hilarious at times, offers up a fiercely honest account of how her adored mother slowly began "disappearing in plain sight."
April 8th - Art Maines, LCSW, author of "Scammed: 3 Ways to Help Your Elder Parent and Yourself" - Based Art's extensive research, this book can help families learn about scams and prevent them, especially to those seniors most vulnerable.
Frank M. Samson, CSA is Certified Senior Advisor and Founder of Senior Care Authority, a senior placement service in California and SCAnetwork, a senior placement training program.