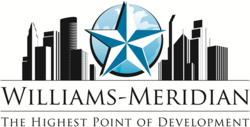 Houston, TX (PRWEB) February 28, 2013
The Houston based real estate investment and development firm Williams-Meridian Companies announces a major corporate realignment and strategic redirection of the company. Starting in March 2013, the firm will focus a majority of its resources towards expanding its presence within the Eagle Ford shale by acquiring and developing additional workforce housing communities, while continuing the firm's previously announced objective of investing and developing single family homes and apartments in select markets throughout Texas and the United States.
The Firm's President, Philip Williams,stated that his company is "actively pursuing quite a few opportunities presently, including more workforce housing and support projects in several U.S. oil and gas shale plays, but in a very different manner than others players in this game".
When asked about his Firm's strategic realignment, Mr. Williams further stated that "We are not only excited about satisfying the extremely robust demand for real estate in the Eagle Ford shale, but also taking part with others in the strong rebound in the Houston housing market. Both of these opportunities are very real and are happening in our backyard right now. So we are moving quickly in order to participate in a pretty big way in all these real estate areas."
Indeed Williams-Meridian Companies has made a pretty big splash into the real estate investment and development scene within the past few years. Over the past few years, Williams-Meridian Companies has established a successful real estate consulting, investment and development platform across the U.S. With major clients and development partners, Williams-Meridian continues to move forward very quickly, and is evidently aimed in the right direction.
The Firm's President, Philip Williams, further went on to say, "We are just getting warmed up in the Eagle Ford shale. It is absolutely booming down there. Unbelievable does not describe the situation correctly. It's beyond explosive. Our branded Ventana Creek workforce housing platform is just getting started, as we are planning for more developments of that magnitude as 50 to 100 Ventana Creeks could easily be supported in these areas where the oil and gas activity is strongest. And I also expect we are getting close to a similar real estate situation in the Houston residential housing market. Things are heating up in Houston, and doing so very, very quickly. I'm pretty sure that we will trump other markets that are slower, and do so quite soon."
For more information on the company, please visit their website at http://www.williams-meridian.com.
Company Overview
Williams-Meridian Companies is a privately held, commercial real estate development firm providing creative, full-service solutions to its valued partners. Based in Houston, Texas, Williams-Meridian offers a wide range of commercial real estate services to clients across the nation, including real estate consulting, corporate real estate strategies, leading or co-developing projects, or providing joint venture equity on select real estate investments or development projects across all real estate asset classes.