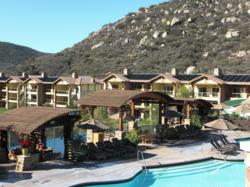 Even in sunny southern California, most commercial swimming pools still require a heater to keep guests swimming happily.
Escondido, CA (PRWEB) February 28, 2013
For nearly 30 years, Lawrence Welk entertained audiences nightly with his musical variety hour, The Lawrence Welk Show. Known as "Television's Music Man," Welk – a skilled musician, accordionist, and bandleader – passed away in 1992. Aside from his entertainment industry legacy, he also left behind a resort community just north of San Diego, California called The Welk Resort and Champagne Village.
Developed by Welk and promoted heavily by him on the show, the Village was where Welk lived for much of his life. Today the resort, which is open to the public, sits on 450 acres and contains dozens of upscale timeshares, two golf courses, and eight large swimming pools complete with water slides and features.
Even in sunny southern California, most commercial swimming pools still require a heater to keep guests swimming happily. In the case of The Welk Resort's eight year-round pools, a propane heater is used to keep the large bodies of water up to a comfortable temperature.
According to Dave Peterson of Watershapes Consulting, Inc., the aquatic engineering design firm that built several of property's more recent swimming pools, The Welk Resort has always been deeply interested in all things "green" and eco-friendly. In fact, many of the buildings on the property already utilized solar electric and hot water heating systems.
"The management at the Welk Resort was well aware of using solar as an alternative to the costly propane heaters, but installing a solar heating system came down to an issue of appropriating capital for the expense," explained Peterson.
It was 2010 before the resort was ready to make their first push toward solar heating and brought in Watershapes as a consultant on the system. In turn, Peterson reached out to his "go-to solar contractor," Mark Naylor of Mark Naylor Solar Specialists in San Diego. Naylor, an Aquatherm Platinum Solar Industries Master Dealer, and Peterson have a long history of successful solar pool heating projects between them.
With eight large swimming pools on property, upfront costs to add solar to all of them at once would have been cost-prohibitive. Instead, the Welk Resort decided to install a solar heating system on their largest pool first, and address the others as funds became available.
At 6,592 square feet of swimming pool surface area, Naylor and Peterson agreed on a proposed system of 128 4'x12' Solar Industries pool heating collectors– for a total solar surface area of 6,144 square feet (93% coverage). Since the system was to be split between two nearby buildings, the Welk Resort decided to have it installed in two phases – the first of which was completed in 2010, and the second phase completed in 2012.
With a year-round guest list, closing down the pool for the installation was not an attractive option for the resort. Instead, Naylor and Peterson utilized an existing surge tank, which is fed by way of a 479 foot gutter around the perimeter of the pool. By adding a secondary pump and filter, then diverting flow from the surge tank to the solar collectors, the installers were able to complete both phases of the project without closing the pool. The existing propane boilers will remain, and can be used as a backup heater if necessary.
According to Dave Peterson of Watershapes, the Welk Resort plans to eventually add solar heating systems to the rest of the property's pools as funds become available. With the recent passing of AB2249 in California, which adds commercial swimming pool solar heating to the existing CSI-Thermal rebate, that could happen sooner than later. Mark Naylor says the rebate is definitely something he will be promoting this year. "Reducing the upfront cost of system installation through the rebate will go a long way toward properties like Welk being able to utilize solar pool heating."
About Aquatherm
Aquatherm Industries is the largest manufacturer of solar pool heating systems in the United States, the only U.S. manufacturer of NSF listed solar pool heaters, and the only U.S. solar collector manufacturer to achieve the ISO 9001:2008 quality standard. Aquatherm manufactures several of the industry's leading brands of solar pool heating collectors, including the Solar Industries and Ecosun solar pool heating collectors.
Aquatherm's entire manufacturing process takes place at its 50,000-square foot technology center in Lakewood, NJ - the most modern facility of its kind in the world. For more information on Aquatherm Industries, its products or its dealer network, contact Molly Friar, Aquatherm's Sales & Marketing Manager at 1-800-535-6307, extension 226.