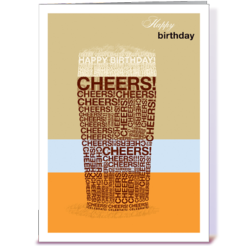 Card Gnome's online greeting card platform allows women to find happy birthday cards for the special men in their life.
Boulder, CO (PRWEB) February 28, 2013
When husbands, brothers, fathers and other men have birthdays coming up, Card Gnome, an online greeting card company powered by independent artists, suggests adding a dash of humor to make cards shine. Card Gnome enables users to find happy birthday cards for men using the company's powerful search and recommendation technology.
"Funny birthday cards for men are always a great choice," said Joel Wishkovsky, co-founder and CEO of Card Gnome. "Who doesn't love a laugh on their special day? Our online greeting card platform allows you to find a happy birthday card with a snarky edge or one that uses light-hearted art to remind them of their best qualities."
Have an inside joke? Turn ordinary blank cards into funny birthday cards by adding a quip about getting lost on a road trip.
"There are plenty of birthday cards for men that include jokes about their age," continued Wishkovsky. "We recommend adding a tongue-in-cheek message to your cards about all the things that kept him young this year, like a family ski trip or outdoor concert."
Card Gnome brings the convenience of a favorite card store, writing desk and local post office all in one place online. Check out http://cardgnome.com for humorous birthday cards and more.
About Card Gnome
Card Gnome is an online greeting card company offering personalized paper cards. Based in Boulder, Colo., Card Gnome offers the ease of online ordering while remaining dedicated to preserving the time-honored tradition of receiving real cards in the mail. The company works with an exclusive community of independent artists from around the world. Customers can select from thousands of cards and schedule delivery up to one year in advance. Card Gnome's technology focuses on helping people find the perfect card. All cards are printed on 100% recycled card stock and packaged in biodegradable materials. For more information, please visit http://www.cardgnome.com and follow on Facebook.com/CardGnome and Twitter.com/CardGnome.