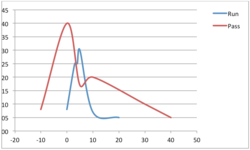 I thought to myself that some of the NFL analytics commentary I've been reading lately is like this Herpes test.
San Francisco, California (PRWEB) February 28, 2013
With the MIT Sloan Sports Analytics Conference approaching, Chat Sports announces the addition of sports analytics expert Kwesi Adofo-Mensah to their writing staff.
Kwesi Adofo-Mensah is pursuing a PhD in Economics at Stanford University and originally hails from Philadelphia, PA. Prior, Kwesi attended Princeton University where he was a walk-on point guard for the men's basketball team. After graduating from Princeton with a degree in economics, Kwesi spent eight years working in New York in commodity trading.
The linked article below is Kwesi's first article for Chat Sports. In this advanced analytics article on yards per attempt stats in the NFL, Kwesi finds an interesting comparison of the value of this NFL analytics test to a health related test.
Full article here: http://www.chatsports.com/new-england-patriots/a/Yards-Per-Attempt-and-Herpes-10-99-965
Article preview below:
Yards Per Attempt and Herpes
"A few weeks back, I went to the doctor for my yearly uh-oh appointment. My doctor asked me what tests I wanted done and I told him I wanted them all to be safe. Doc told me that there was a new test for Herpes but he doesn't recommend people getting it. I incredulously asked why and he responded:
"Well, the test can only tell whether your immune system has ever seen herpes internally, either the garden variety that a majority of the population has or the kind that we joke about at parties. Your immune system could have seen it and fought it. You could be transmitting it to others but have no visible symptoms. It also has a 5% false positive rate. So if I tell you the test came back positive what does it do for you? You can't treat the bad kind if you do have it, you could have the harmless strain, or you may not have either. At some point you have to say f*** it and live your life."
"After an emotional hug with a guy I will most likely never visit again, I thought to myself that some of the NFL analytics commentary I've been reading lately is like this Herpes test. Invoking game theory, parrots of the analytics community point out that run/pass ratios may be overly run-oriented because yards per attempt averages are greater than yards per rush averages. The logic is that in equilibrium these numbers should converge. Merely pointing out this fact doesn't specify where exactly offensive coordinators are making mistakes. This simple test of offensive play-calling has come back positive, but what does it really mean?"
Read the full article here: http://www.chatsports.com/new-england-patriots/a/Yards-Per-Attempt-and-Herpes-10-99-965
Press Contact:
Ryan Greenwald
ryan(at)chatsports(dot)com
415-545-8671