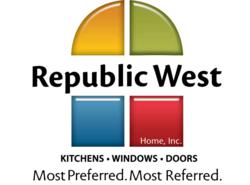 While your roof might look perfectly fine to you and just the same as it did before the hail, that doesn't mean there aren't any problems. To positively determine hail damage, your roof needs to be physically inspected
Phoenix, AZ (PRWEB) February 28, 2013
Cold air blasted through the Phoenix area on Wednesday, February 20, 2013 as a storm system lowered Valley temperatures 20 degrees below the temperatures of the previous week and brought damaging weather through the valley. High winds brought through blustery rain and hail throughout many cities in the Phoenix metropolitan area.
Hail is not something desert dweller are accustomed to, so Republic West Home wants to help educate homeowners about how to handle the aftermath. For most homeowners, this onslaught of hail has brought a lot of concern about their roof and what damage it may have entailed. However, there are a lot of rumors and myths surrounding hail and insurance claims, so Republic West Home offers the following information to clear up the confusion.
Linda Zimmerman, Vice President of Republic West Home, explains, "While your roof might look perfectly fine to you and just the same as it did before the hail, that doesn't mean there aren't any problems. To positively determine hail damage, your roof needs to be physically inspected by someone with training and experience."
Hail damage is extremely subtle in nature. While the damage may not seem like much, if left untreated and uninspected, Republic West Home warns that the damage may cause leakage years after the hail storm.
Republic West Home suggests that one of the best ways to assess hail damage is by checking drain downspouts and gutters. Downspouts full of black mineral deposits and/or dinged or dented gutters are typically a good sign your roof has been badly damaged by the hail and it's time to call a specialist.
Republic West Home also warns that just because you aren't missing shingles does mean you don't have any hail damage. Missing shingles are typically associated with wind damage. While hail storms may have winds high enough to cause this, hail damage does not cause missing shingles and is therefore not the central problem with hail storms. Hail will dimple and bruise shingles, making them vulnerable to cracking and causing leaks.
Homeowners who suspect damage to their roofs are advised to call a specialist immediately. Waiting until a home's shingles crack or leak may prove to be too late, costing thousands in unneeded repairs.
About Republic West Home:
Republic West Home is a company that stands for quality, honesty, and the best value. Our vision, in an industry often lacking ethics and reliability, is to deliver the best home improvement experience possible - before, during, and after your home remodeling project.
To deliver the best possible experience before, during and after the completion of your project, an extensive team of professionals was put in place: employees driven to make the home improvement experience a great one for you, our customers. The formula works and the pleasant experiences we create for our customers have paid off. In an industry where repeat business averages less than 5%, Republic West Home and our 15,000+ clients generate an amazing 50% of our business from previous customers and referrals.
For additional information, please call 480-423-9300 or visit http://www.republicwesthome.com
Media contact:
Jason W. Jantzen
Phoenix Marketing Associates