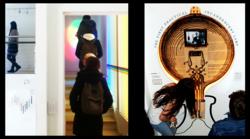 "For me, Lightology has always been about more than just selling light fixtures . . . It's an adventure, a resource for lighting education, and really an opportunity to expand people's notions about light, art, and the world around them."
Chicago, IL (PRWEB) February 28, 2013
Last Week, a group of 20 design students from the School of the Art Institute of Chicago (SAIC) visited the Lightology Showroom for a Lighting Education Tour. Lighting Designer Diane Fairchild and Architect Richard Kasemsarn brought their "Design with Light" class to Lightology for an immersive educational experience.
The one hour student tour explored fundamental lighting principles, the properties of light, lighting design techniques, and the evolution of electric lighting technology. This design class is one of many to have taken the tour, which evolved over the years as increasing numbers of student groups requested access to Lightology's space.
The School of the Art Institute of Chicago, the International Academy of Design and Technology, and Harrington School of Design are but a few of the prestigious design schools that often ask for student tours at Lightology.
Tour leader Andrew Goldman notes, "We've heard a lot of feedback that these student groups leave Lightology with a deeper appreciation and understanding of things they've been learning about in class. Our exhibits and displays allow them to see and touch the things they learn in books."
More than a Showroom
Lightology founder and owner Greg Kay sees the tours as a sign that he must be doing something right. The award-winning lighting designer and Master Electrician opened Lightology in 2001 with a mission to offer the finest modern and contemporary lighting in the world. At the same time, he wanted to create a world-class educational center for lighting design.
"For me, Lightology has always been about more than just selling light fixtures—it's more than a place to browse and shop," says Kay. "When I first had the idea to open Lightology, I knew I wanted people to be able to explore the showroom as they would The Museum of Science and Industry, for example."
Indeed, it's no stretch to think of Lightology as Chicago's Unofficial Museum of Light. The modern, glass-enclosed structure boasts 3 stories of stunning lighting displays and looks more like an art gallery than a lighting store. A variety of eye-catching and unexpected Light Art displays add to the ambience.
Visitors may explore a host of permanent, educational and interactive exhibits on the properties of light and color, the history of electric lighting, and the emergence of LEDs as the future of lighting. A breathtaking exhibit in the Morpheus Room demonstrates the impact of light and lighting systems on architecture, design, and human emotion.
In addition to educational tours for design and architecture students, Lightology's award-winning showroom also hosts a variety of lighting seminars, industry training sessions, and other events. Complementing these educational experiences is a multitude of cultural events, parties, and photo shoots that take place throughout the year. (Even weddings!)
"Lightology is an experience," affirms Kay. "It's an adventure, a resource for lighting education, and really an opportunity to expand people's notions about light, art, and the world around them."
For more information contact Fred Kern at fkern@lightology.com or call 773-770-1143.
About Lightology
Based in Chicago, Lightology has an outstanding selection of quality contemporary lighting fixtures, both low voltage and line voltage, from over 400 manufacturers. Design masters such as Mariano Fortuny, Philippe Starck and Isamu Noguchi are well represented. Visitors can shop the spectacular 20,000 sq. ft. Chicago showroom or on Lightology.com, which features a live inventory of over 16,000 modern lighting products and growing, as well as a Project Manager layout tool that lets you easily lay out larger lighting projects. Lightology's goal is simple: to be the premier contemporary lighting company for both homeowners and design professionals.