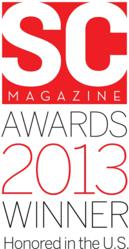 Our number one goal is to resolve the customers' problems quickly so their business can get back up and running in no time.
San Francisco, CA (PRWEB) February 28, 2013
Barracuda Networks, Inc., a leading provider of security and storage solutions, today announced that it has been selected as a 2013 SC Awards, Excellence Award winner for outstanding leadership and achievement in information security. Barracuda Networks Customer Service and Support is recognized in the Best Customer Service category, which acknowledges companies with superior security products that help customers tackle today's most pressing information-technology challenges. The award was presented at the 16th annual SC Awards U.S. Ceremony held February 26, 2013 in San Francisco, in conjunction with the annual RSA Conference.
"Barracuda has built its reputation on delivering quality products backed by world-class service and support," said Steve Pao, vice president of product management at Barracuda Networks. "Our number one goal is to resolve the customers' problems quickly so their business can get back up and running in no time."
The 2013 Excellence Award winners were chosen by a panel of esteemed security professionals from the private and public sector, hand-picked by SC Magazine's editorial team for their breadth of knowledge and experience in information security. Through this comprehensive analysis, Barracuda Networks was determined as this year's winner in the Best Customer Service category.
"We're proud to acknowledge the achievements of Barracuda Networks and the company's Customer Service and Support as a 2013 SC Award Excellence winner," said Illena Armstrong, VP of editorial, SC Magazine. "The cyber risks facing private and public sector are tremendous, but Barracuda Networks is one of a select few facing this challenge head-on to fend off many would-be attacks."
The SC Awards, now in its 16th year, are the clear global leader for information-technology (IT) security professionals and products that fend off the myriad security threats in today's corporate world. The annual awards showcase the best solutions, services and professionals while recognizing achievement and technical excellence. SC Magazine distinguishes the achievements of the security professionals in the field, the innovations happening in the vendor and service provider communities and the fervent work of government, commercial and nonprofits. For more information and a detailed list of categories and winners, please visit http://www.scmagazineus.com/awards.
About Barracuda Networks, Inc.
Protecting users, applications, and data for more than 150,000 organizations worldwide, Barracuda Networks has developed a global reputation as the go-to leader for powerful, easy-to-use, affordable IT solutions. The company's proven customer-centric business model focuses on delivering high-value, subscription-based IT solutions for security and storage. For additional information, please visit http://www.barracuda.com or follow us on Twitter@barracuda.
About SC Magazine
SC Magazine provides IT security professionals with in-depth and unbiased information through timely news, comprehensive analysis, cutting-edge features, contributions from thought leaders and the best, most extensive collection of product reviews in the business. By offering a consolidated view of IT security through independent product tests and well-researched editorial content that provides the contextual backdrop for how these IT security tools will address larger demands put on businesses today, SC Magazine enables IT security pros to make the right security decisions for their companies. The brand's portfolio includes the SC World Conference and Expo, SC Congress Canada, SC Magazine Awards, SC Directory, SC Magazine Newswire and SC Magazine IT Security Executives Forums.
Fan us on Facebook! http://www.facebook.com/SCMag
Follow us on Twitter: http://twitter.com/scmagazine