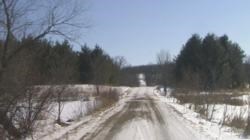 This is the kind of setting viewers have come to expect
Brandon, MI (PRWEB) February 28, 2013
Opening onto a winter wonderland of steep wooded trails and sweeping hilltop vistas overlooking frozen lakes, Lakes Country Living introduces viewers to Spidahl Ski Gaard in its newest episode. The rolling glacial moraine of Otter Tail County provides the backdrop as the television camera pans skiers of all ages. With a soft voice, owner David Spidahl explains how his father would pronounce "ski gaard" in Norwegian, meaning "ski farm." This is the kind of setting and subject matter television viewers have come to expect from the show's producer and host, Stephen Henning -- a landscape painter who lives in the region. The family-owned and operated venture, unique and fighting the uphill battle of a small business during challenging economic times and unpredictable Midwestern weather -- the type of story Henning seeks to share with audiences. Cindy Spidahl, David's wife, explains how a local chapter of the MN Youth Ski League and a local high school ski team, both essential supporters of their business and prospective future visitors, utilize the 25 kilometers of groomed trails on their property to mutual advantage.
In a similar story, the camera reveals wide, open meadowlands in neighboring Grant County. Filmed during an FFA Field Day in early fall, this story showcases another entrepreneurial outdoors venture. Elk Lake Heritage Preserve lies in the heart of prime habitat for upland game birds, with stocked lakes for guaranteed good fishing. Owners Ed and Nettie Loeffler discuss the wide-range of year-round activities at Elk Lake, enhanced by Ed's experience as a dog trainer. Beautiful shots of fields, streams and lakes on the property combined with images of sportsmen using various Elk Lake amenities give local color to the story.
Elk Lake Heritage Preserve was also the setting for another episode of Lakes Country Living. "Large Munsterlanders Take the Field" aired earlier in the show's third season, and showcased a relatively new breed of hunting dog that is fast gaining popularity. "Elk Lake graciously provided an excellent location for our dogs' warm-up training early in the year," said Mike Marsh, one of the dog breeders interviewed in the story. "It has challenging terrain, and the video coverage by Lakes Country Living demonstrates this breed's true capabilities when hunting in extremely dry and windy conditions."
Stories focused on outdoor life have been an integral part of the program's content ever since Lakes Country Living started airing in the fall of 2010. Several State Parks have been highlighted, and other stories include visits to environmental learning centers, as well as interesting individuals and wildlife.
Lakes Country Living is a half-hour made-for-cable video magazine featuring stories of outstate
Minnesota. The show currently airs on telecom cable networks across the upper Midwest. Hosted by nationally acclaimed landscape painter Stephen Henning, the show's topics include the arts, agriculture, Main Street entrepreneurs, local history, natural resources and outdoor recreation. Particular attention is given to conveying local flavor. More information is available online at http://www.lakescountry.tv.