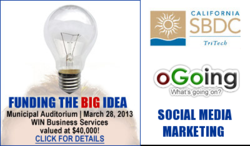 TriTech SBDC Partners with oGoing to Jumpstart Social Media Marketing
Irvine, CA (PRWEB) February 28, 2013
TriTech SBDC, Southern California's leading technology Small Business Development Center, collaborates with oGoing to jumpstart social media marketing and networking, grow their online presence and boost their brand.
"It's great to have oGoing as our social media marketing partner for 2013. oGoing founder Sanjay Dalal and his team will help promote TriTech Small Business Development Center on oGoing and major social media networks, enhance our brand and online presence, and attract new entrepreneurs and business owners to our programs." Mark Mitchell, Director, TriTech SBDC
"TriTech SBDC has been working with high technology, rapid growth companies in Southern California which have a very high impact on their local economies. I am pleased that TriTech chose oGoing as their strategic partner for growing their online business using cutting-edge social media marketing services." Sanjay Dalal, CEO & founder, oGoing
Connect, share and network with Mark Mitchell, TriTech SBDC Director on oGoing Small Business Social Network. Go here to connect with Mark
TriTech and oGoing invite local entrepreneurs, startups, business owners and small business community in Orange County, Inland Empire, Los Angeles and San Diego to attend the TriTech's 4th Annual Funding Forum on March 28, Funding The Big Idea, at the Municipal Auditorium in Riverside. Get funded! Register early
Why companies, organizations and non-profits are choosing oGoing for managing their social media?
1. oGoing is USA's leading business social network for owners and entrepreneurs. oGoing team lives and breathes social media 24/7.
2. oGoing has been successfully managing social media services for clients for four years.
3. oGoing is a recognized leader in social media marketing solutions and consulting services.
4. oGoing founder & CEO Sanjay Dalal has trained and consulted over 500 business owners on social media.
5. oGoing is Facebook, Google, LinkedIn, Twitter, Microsoft and Apple partner and developer.
Learn more about oGoing's affordable social media services.
About TriTech SBDC:
TriTech Small Business Development Center (SBDC) works with high technology, rapid growth companies which have a very high impact on their local economies. TriTech offers consulting in areas such as identifying capital resources, commercializing new technologies, marketing products and services, and becoming investor ready. TriTech's mission is to make a measurable economic impact for the business community by increasing the profitability of enterprises. Economic growth depends upon entrepreneurs translating ideas and innovation into viable commercial enterprises. Learn more
About oGoing:
oGoing is the nation's leading small business social network. oGoing provides thousands of small business owners, CEOs and entrepreneurs the most amazing social media network to connect, network, share, promote and grow their business. oGoing founder & CEO Sanjay Dalal is on a mission to grow the small business networking community to over 10 million small businesses. Join oGoing and promote your business. Join Now