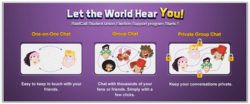 We'd like to provide a great platform to let the youth to present themselves in front of the whole world, and let them to know more about RaidCall, the benefit that RaidCall can bring to them in their college life, said Shaka,Manager of RaidCall
(PRWEB) February 28, 2013
RaidCall plans to offer a plenty of rich features for teams attending the election, which join the program. RaidCall will provide a platform to let the teams present themselves, and gain more attention and supports from all around the world, by utilizing the 700,000 registered active users from all around the globe.
The benefits that election teams will gain are as follows:
1. An official recognized group, which will support a live stream
2. Special badges for the whole election team
3. Outstanding promotional opportunities, which include a Facebook page with more than 130,000 fans and a graphic banner visible to more than 700,000 daily active users on RaidCall.
RaidCall will help groups to organize group meetings for assignment/projects, and even provide a platform for extended voice meetings. Private groups will also offer privacy, thus allowing everyone to prepare everything perfectly.
RaidCall as a free voice solution software, not only provides a professional (private) group chat environment but also offers a great platform to let the youth to present themselves.
More information of the Student Union Election program:
http://www.raidcall.com/v7/election.html
Download RaidCall: http://www.raidcall.com/v7/download-raidcall.html