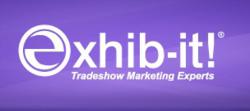 The Instand displays are perfect for small and large companies alike as they are scalable to grow with your business needs.
Albuquerque, NM (PRWEB) February 28, 2013
Many companies continue to seek ways to extend their trade show presence without denting their wallet. EXHIB-IT!, one of the market leaders in trade show displays, now offers a way to save money on high quality Nomadic displays.
The Instand pop up displays are a great way to make a lasting impression at a trade show for exhibitors. Many businesses like these Nomadic displays - as they feature brilliant graphics that make a big impact for a quality price without sacrificing on image. These graphics are customized specifically for the exhibitor company. The Instand trade show displays are very high quality, made in the USA by the Inventor of Pop Ups, Nomadic Display. They are long lasting and made from aircraft grade aluminum. They also feature cross-bracing throughout the frame structure for superior stability, steel hubs for maximum strength at critical joints and polar opposite magnetic mounting for precision graphic alignment every time without having to adjust your graphics to fit your frame. Guaranteed fit every time.
Besides the great promotional price, these special Nomadic Pop up displays also save exhibitors money in other ways. Instand Graphic displays are lightweight to save on storage, transport, and drayage. They are very easy and fast to set up, reducing labor costs.
"The Instand displays are perfect for small and large companies alike as they are scalable to grow with your business needs," says DJ Heckes, owner and CEO of EXHIB-IT!.
EXHIB-IT! also guarantees that the investment businesses make are benefiting them long term by providing protection against damage with free repairs for life. Their "No Questions Asked" Lifetime Guarantee can put marketing managers' minds at ease knowing that their investment will last for years.
EXHIB-IT! has a strong commitment to customer service and wants to make sure exhibitors are completely satisfied. That's why they offer 24/7 support after-the-sale with their LifeLine Service Hotline.
The special Instand Display promotion is valid on the kits specified on the EXHIB-IT! website when ordered through April 30, 2013. This offer may not be combined with any other promotional offer. Discount coupons may be applied to 8' and 10' Instand graphic systems featuring additional elements including Mini Foundation and Foundation or 20' Instand graphics systems such as Aquarius, Scorpion, Pluto or Tempest kits.
About EXHIB-IT!
EXHIB-IT! is a design and display company that specializes in high quality trade show displays and trade show management services. More information can be found at their official website at http://www.exhib-it.com.