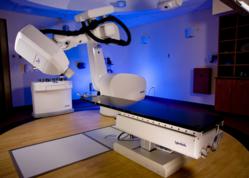 Reaching this milestone in patient care is a proud moment for our center. - Dr. Diane Heaton, medical director of Oklahoma CyberKnife.
Tulsa, OK (PRWEB) February 28, 2013
Oklahoma CyberKnife announces treatment of its 1000th patient this week as the center continues to treat patients throughout the Midwest using advanced cancer treatment technology.
Since opening in 2008 as a service of Hillcrest Medical Center, Oklahoma CyberKnife has drawn patients from across the state and region including Missouri, Kansas and Arkansas. Approximately 35 percent of patients treated at Oklahoma CyberKnife have traveled from communities outside of the hospital's primary service area.
"Reaching this milestone in patient care is a proud moment for our center," said Dr. Diane Heaton, medical director of Oklahoma CyberKnife. "It is a testament to the experience and expertise our team can offer to anyone in our area seeking an effective nonsurgical cancer treatment option."
Oklahoma CyberKnife treats patients using CyberKnife®, a robotic technology that provides stereotactic radiosurgery and stereotactic body radiation therapy. During these procedures, precisely targeted, high-dose radiation beams are delivered to tumors throughout the body without sedation or incision while radiation exposure to healthy tissue around a tumor is minimized. CyberKnife treatment is painless and is completed in five or fewer procedures.
Lung tumors and brain tumors represent the majority of cases treated at Oklahoma CyberKnife, encompassing more than 65 percent of treatments. The center also treats a large volume of patients with trigeminal neuralgia, a debilitating nerve disorder.
In 2012, Oklahoma CyberKnife began offering treatment to prostate cancer patients on Medicare when regional contractor TrailBlazer Health Enterprises expanded prostate cancer coverage to include CyberKnife treatment, provided patients are enrolled in a clinical study. Oklahoma CyberKnife joined a national multi-institutional registry for prostate cancer, allowing Medicare patients who join the registry to receive CyberKnife treatment. The center and other participating institutions will analyze collected data to improve prostate cancer treatment protocols.
"This was an important step to ensure prostate cancer patients in Oklahoma have access to advanced treatment options like CyberKnife," Dr. Heaton said. "Patients have the benefit of returning to their normal routines following treatment and experience few to no side effects."
Oklahoma CyberKnife is a service of Hillcrest Medical Center and is located off the hospital's main campus at 6802 South Olympia Ave. in Tulsa. For more information, call (918) 949-6676.