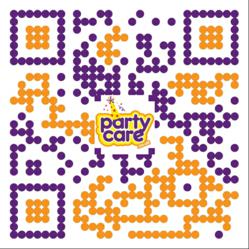 The idea behind Partycare is to offer all the party products which any parent or party planner could be looking for
(PRWEB UK) 28 February 2013
Who doesn't love a party? From a very young age children and adults alike celebrate birthdays and other special events with parties and one of the things which makes these extra special is the decorations and themed accessories which are used. Children absolutely love seeing their favourite TV character on the paper plates, cups and tablecloths used at their party and if their party bags are themed the same as well, it makes for an even greater event. In response to the demand for themed party supplies, decorations and accessories, Partycare.co.uk; a 'One Stop Party Shop' has been launched to meet the needs of party planners across the country.
In conjunction with the launch of the Partycare website, the team behind the store, which comprises of Michelle and Laurence Kilcommons, are offering a discount of 15% off the first order placed by newly registered site users. New users simply need to register for the site and enter the discount code 'PARTY15' at the checkout or scan the QR code to the right to take advantage of this not-to-be-missed discount.
For those looking for a one stop shop for party supplies and decorations, Partycare could be the answer. Gone is the need to order supplies and decorations from a range of sources, paying multiple postage costs and having to wait for multiple deliveries when Partycare are able to offer such a wide selection of products through one easy-to-use online store. As Laurence Kilcommons stated, "the idea behind Partycare is to offer all the party products which any parent or party planner could be looking for, all within one online shop. By offering a wide selection of themed yet current party supplies and decorations, customers can ensure all of their purchases arrive together from a single retailer. We strongly believe that by stocking products which feature current characters, as well as a selection of those featuring timeless classics, we are meeting our customers' needs and offering them all the supplies and decorations they could want in a single location."
Whether it's Toy Story themed party accessories for the boys, Disney Princess themed party supplies for the girls or a range of decorations tailored specifically for a baby's first birthday party; there's no chance that customers of Partycare will be struggling to find suitable products. As a matter of fact, Partycare's selection of themed party supplies is that extensive that it's more likely that customers will be struggling to narrow down their initial selection!
In addition to the easy-to-use website and the very generous introductory offer for newly registered users, customers will be pleased to hear about the rewards system in place. As a way to reward regular customers who make repeat orders, Partycare have implemented a rewards system which see's users collecting points on each order they make. Much like the various loyalty and rewards cards available in many UK chain stores and some independent stores, the rewards system offers points at a value of 1 point per pound spent. In Partycare's eyes, this has been put together simply as a way to reward loyal customers and give something back to those who choose the shop as their source of party supplies and decorations.
As far as party shops go; it's difficult to beat Partycare both on price and stock availability and, with this in mind, the launch of the site has already seen a great success for the store in this first part of the year. With an ever-expanding selection of the latest trends in children's party supplies; Partycare is further securing itself as the 'One Stop Party Shop' of choice for both parents planning their kids parties and a whole host of other individuals on the lookout for the very best products at the very best prices; all in one easy-to-use location!
To view the wide range of products stocked by Partycare and to take advantage of the 15% discount code currently on offer, take a moment to visit their website at http://www.partycare.co.uk .