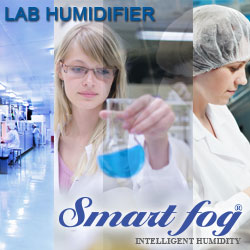 Smart Fog provides a hygienic and efficient commercial humidifiers
Reno, NV (PRWEB) February 28, 2013
Smart Fog announced this week the release of a new clean room humidification systems. The system suppresses static electricity and provides hygienic features for dust, mold and bacteria free environments.
Accomplishing both relies on Smart Fog's intelligent humidity control technology and its decorrelation process.
This latter technology relies on water's inherent properties. Water is naturally cohesive, meaning it is attracted to itself. So two water droplets side by side will be attracted to each other. Smart Fog's decorrelation technology reverses this affect. Through a non-chemical process, the properties of the water are reversed to maximize adhesion—or the water's attraction to non-water particles.
That's the science, so what does it all mean?
It means that the dust and other air born particles—including bacteria and viruses—are drawn to the water's adhesion, and then oxidized for sanitation. Smart Fog's 4.2 micron-sized water droplets—which are produced by all of their humidification systems––are the best size for maximizing adhesion and attaining 100% dust suppression.
But Smart Fog's hygienic benefits don't end there. Smart Fog produces true adiabatic humidifiers, which achieve—through small water droplet size and carefully engineered spacing between water and air—100% evaporation rate of water. By ensuring that no pooling or condensation of water occurs, Smart Fog eliminates the threat of mold in an HVAC system.
Smart Fog's 100% water evaporation rate is aided by intelligent engineered algorithms, which identify the most efficient way to generate the required humidity for each unique environment. This is where Smart Fog excels at static control. Precise humidity means no static and no electrostatic discharge, which can be harmful in carefully controlled technology environments.
Smart Fog has always been proactive in creating clean humidification systems. They were the first in the industry to incorporate disinfection and dust suppression as a standard feature in commercial humidification systems, saving building owners and facility managers expensive clean-up costs. And because Smart Fog systems are constantly being oxidized, system nozzles are cleaned automatically. All Smart Fog systems are manufactured from high grade plastic and stainless steel, so no corrosion or build up occurs.
Additionally, Smart Fog humidifiers are equipped with data collection tools that help users with audit and compliance issues. Data on environmental settings is collected and can be stored on a data chip or sent directly to a facility's central server. This data is easily accessible at any time.
About Smart Fog Inc
In business since 1980, Smart Fog® Inc. is the recognized world leader in the industrial and commercial humidification systems industry. All products are manufactured in the United States. Smart Fog, The Humidification Experts, is a world leader in developing unique industrial and commercial humidifier systems to meet the individual needs of your environment.
For more information, visit: http://www.smartfog.com