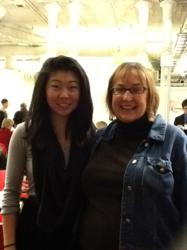 North Ridgeville, OH (PRWEB) February 28, 2013
After skating for the last four months in the hallways, through the commons, and across the quad, the cast of Xanadu performed their final show on Saturday February 23rd. For the seniors it was their last musical at Lake Ridge Academy. The show was a huge success and truly show cased the multitalented students at Lake Ridge Academy.
For many of these seniors their acting skills won't end at Lake Ridge Academy. Many of them like 2003 alum, Taryn Schubert, will follow their dream of becoming actors. After graduation Taryn moved to Los Angeles to purse her dream. Since then she has been in two movies, "Get Serious" and "Beautiful Garden." Currently she is working as a children's acting coach in Los Angeles and is still pursuing her own full time acting career. For more information about Taryn you can visit her website at tarynschubert.com.
Mike Riffle '03 is another Lake Ridge Academy alum who is following his love for the arts. Mike recently narrated an audio book, Wreck of the Nebula Dream. The author, Veronica Scott, interviewed him on the creative aspect of the recording process. In the interview Mike shares with her that he first found a love for acting when he was in 8th grade here at Lake Ridge Academy. He says "I took an improvisation class with Matt Vanek, and that lead to doing the fall play and the spring musical every year until college." Like Taryn, Mike also lives in Los Angeles where he works voicing audio books. He got into voicing audio books after he moved to Los Angeles and attended a workshop with David Lawrence on voice-over. He says "I bought myself a studio mic and got myself setup with a recording space, and that brings us up to today." To read more about Mike and his interview with author Veronica Scott visit veronicascott.wordpress.com.
Lake Ridge Academy Junior Lia Yoo might be the next star to come out of Lake Ridge Academy. Upper School English teacher Teresa Jenkins and Lia represented Lake Ridge Academy on February 23, at the Northeast Ohio Regional Shakespeare contest held at the Great Lakes Theater. The contest is part of the English-Speaking Union National Shakespeare Competition. The competition begins at schools nationwide, where students perform a monologue from one of Shakespeare's plays. The winner then advances to the ESU Branch (community) Competition. This year Lia represented Lake Ridge Academy and placed third out of 28 schools represented. Mrs. Jenkins says "Lia simply blew the judges away, and was the first student in our school's history to receive a perfect score from all three judges. She moved one judge to tears and caused another one to reach for his other ballots, laughing as he said, 'I need to lower everyone else's score'." Great job, Lia. For more information on the English-Speaking Union National Shakespeare Competition click here.
The Fine Arts are taught to all students Kindergarten to grade 12 at Lake Ridge Academy. Upper School students who want to become deeply immersed in a Fine Arts curriculum are able to apply to Lake Ridge Academy's School of Fine Arts. The "school within a school" provides students a comprehensive course of study in their chosen area of study; Music, Theater, or the Visual Arts. SOFA students also take advantage of the college preparatory curriculum supported at Lake Ridge Academy.