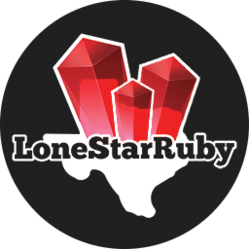 LSRF's new board members add breadth and depth to our extraordinary leadership. They bring honed skills, experience and judgment to our board and critical work educating and growing the Texas Ruby ecosystem.
Austin, TX (PRWEB) February 28, 2013
The LoneStarRuby Foundation has announced expansion of its mission statement of increasing the number of available Ruby language software developers in the State of Texas. Through newly envisioned educational, informational, and communication programs, the foundation plans to expand available training for entry-level and mid-level Ruby language developers, while launching new programs to introduce school children to software careers, and serve adults who want to enter software development careers.
Over the last six years the LoneStarRuby Foundation has produced six successful annual conferences in Austin, for Ruby developers. The focus of the conferences has been to help software development professionals learn about advances being made in the Ruby programming language. This year's conference, scheduled for July 18-20 at Norris Conference Center in Austin, will expand in scope by providing additional workshops and sessions that build on the focus of community, object-oriented software design and professional quality (rugged) software development.
Lance Vaughn, President of the Foundation, said, "Our new focus is to expand beyond the coordination of the annual conference. In typical lean customer development fashion, we started by identifying who are customers are and then asked ourselves what services we can provide them. Our focus is on them, not us. Initially, we will offer new online resources to nurture the existing Ruby community. Then we'll introduce introductory workshops for underserved communities to learn computer programming. Finally, we'll look at designing programs specifically targeted at the companies who are hiring Ruby developers. We are in the development stage of all these programs, and are hopeful that we can launch them by the end of the year."
The foundation recently expanded its Board of Directors to include additional technology and business leaders Vijay Pendyala, Vice President Engineering & SaaS Operations at PeopleAdmin; Joshua Baer, Austin Startup specialist, Email guru and Founder of OtherInbox; Damon Clinkscales, API Lead at VitalSource, and founder of Austin on Rails; Taylor Carpenter, software engineering specialist in network, system, VOIP and security integration solutions; and Mando Escamilla, a professional software developer with extensive experience in ISP, finance, healthcare, security, sports, retail, education and social media industries.
"Our new board members add breadth and depth to our extraordinary leadership team, and helps us expand our understanding of next steps. They bring skills and experience that will be extremely helpful in defining these exciting new programs, and help the Foundation become a valued resource in educating and growing the Texas Ruby ecosystem," Vaughn stated.
The foundation has undertaken steps to evolve from a Texas nonprofit to a full 501(c)(3) organization, which will enable it to accept tax deductible donations to fund its programs. As a member of the Texas Association of Nonprofit Organizations (tano.org) and National Council of Nonprofits, the LoneStarRuby Foundation is taking steps to propel Texas into becoming an increasingly valuable source of highly skilled software engineers. The foundation's website is located at LoneStarRuby.org. For more information: info(at)LoneStarRuby(dot)org.