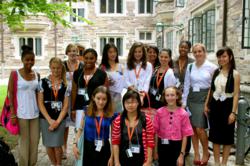 "My son found the program to be exciting and exhilarating because he spent time with other students who care about history, politics, and debate. He came back excited about his life, school, and future."

-Carol Marks, Freshman Scholar Parent
Washington, DC (PRWEB) February 28, 2013
The Junior State of America (JSA) today announced a Freshman Scholars summer program at Princeton University. This program will run for three weeks from July 7th through July 28th. The program is open to students who will be entering 9th grade the following school year, and who are expected to graduate high school in 2017. Students who participate in this civic education program will take the AP US Government and Politics course and will expand their classroom learning with a speakers program in New York City focused on media organizations such as Fox News and the New York Times, as well as the United Nations.
One of the main benefits to students who attend any JSA Summer School is the increased performance and enthusiasm in high school that comes from living on a college campus, and taking college-level courses from an actual college professor. The Freshman Scholars Program at Princeton University confers these same benefits even earlier. "My son found the program to be exciting and exhilarating because he was able to spend time with other students who care about history, politics, and debate. He came back excited about his life, his school, and his future. Because of the program, he will be the only 10th grader next year who received permission to take a particular AP history class," said Carol Marks, parent of a student who attended this past summer.
JSA has run pre-college summer programs since 1941, and currently has programs at Georgetown University, Princeton University, Stanford University, The University of Virginia and Capital Normal University in Beijing. These programs are open to rising 10th, 11th, and 12th graders, with the JSA Diplomat Program in Beijing open to graduated 12th graders. Each student takes one AP or college-level course, and Congressional Workshop, a public speaking practicum. Students also participate in a speakers program, which gives them the chance to question and learn from some of the country's most influential citizens. Students and parents can find out more at jsa.org/summer and can apply for summer school online at jsa.org/summer/apply.
Junior State of America (JSA): Providing civics education and leadership programs for over 70 years, non-partisan JSA summer programs have provided an unparalleled training ground for the students who will be the civic leaders of their generation. The JSA programs are supported by the Junior Statesmen Foundation Inc., a 501(c)(3) tax-exempt educational corporation, which provides guidance to JSA's student leaders. It has offices in San Mateo, Calif., and Washington, D.C. More information is available at http://www.jsa.org/ or jsa@jsa.org.
###