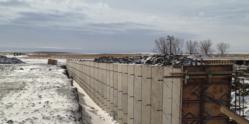 Rapid City, SD (PRWEB) February 28, 2013
To meet the growing demand for new construction projects in North Dakota, J. Scull Construction opens an additional office in Dickinson, N.D.
The construction needs in the expanding Bakken Oil Field communities have grown due to skyrocketing population and business. The booming oil towns have created tens of thousands of jobs in recent years as well as a significant increase in population, initiating a demand for construction projects and a need for trusted and experienced construction companies.
In 2012, North Dakota moved past Alaska as the number 2 oil producing state. Until recently, western North Dakota was accustomed to a declining population. With the recent oil boom, the region has taken a turn and become one of the fastest growing populations in the United States.
With experience in projects ranging from service and retail to educational and civic facilities, J. Scull construction took note of the increasing demand for construction in the quickly growing communities and opened the Dickinson, N.D. site, just 250 miles north of their original Rapid City, S.D. location.
The J. Scull Construction team in Dickinson is already working through the extreme North Dakota winter. As a successful general contractor in the western Dakota region, J. Scull Construction recognizes battling moody weather conditions comes with the job. Knowledge of the climate, the trade area, and use of specialized equipment allows crews to complete construction projects despite the harsh seasons in the Dakotas.
Just as the Rapid City location, the Dickinson site offers pre-construction, construction management, design build, and design bid build services, along with the ever growing demand for green or "sustainable" building.