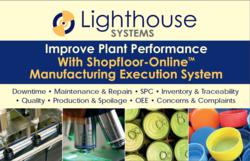 A key objective of the project is to provide a quick and convenient way of allowing operators to report on the "make-up" of an assembly component, including capturing serialization of critical components.
Fairport, NY (PRWEB) February 28, 2013
Lighthouse Systems, a leading provider of MES (Manufacturing Execution System) software, has announced that gaming machine manufacturer SPIELO International Canada ULC (SPIELO International™) is implementing Shopfloor-Online™ to capture and report production data, including quality and finished goods traceability. The resulting data will allow SPIELO International to provide more thorough and timely information for the company's Planning, Finance, Operations, and Quality functions.
Shopfloor-Online will be deployed across all assembly operations at SPIELO International's Moncton, NB facility. A key objective of the project is to provide a quick and convenient way of allowing operators to report on the "make-up" of an assembly component, including capturing serialization of critical components. The Shopfloor-Online solution will give SPIELO International the ability to better maintain traceability data and to more easily look up information by materials' serial number and lot number to gain improved visibility into which materials were used during creation of the finished goods.
Additionally, SPIELO International will use Shopfloor-Online to automate capturing and reporting of quality information, track downtime and production output per work center, and calculate overall equipment effectiveness (OEE). Shopfloor-Online will also improve sub assembly and finish goods identification with the use of its ticket printing module as sub assemblies and finish goods move through the manufacturing process.
Plans also include deploying Shopfloor-Online to manage incoming inspection, non-conformance material, labour tracking and inventory control from the warehouse, and work center stock levels through to finished goods. Integration with the enterprise resource planning (ERP) system will synchronize bills of materials (BOMs) and job production scheduling.
The project also includes a set of production dashboards for line operators, leaders, and operations management that will provide visibility to critical data on a real-time basis for quick decision making.
The implementation of Shopfloor-Online at SPIELO International will be completed in phases. Shopfloor-Online MES modules can be acquired in any order and used to build solutions to current business problems. Over time, a company can add more modules to expand functionality into broader areas and build to a complete MES.
About SPIELO International
SPIELO International designs, manufactures, and distributes top-performing games, cabinets, central systems, and associated software to legal gaming markets around the world. It offers a complete range of end-to-end gaming products for diverse gaming segments, including distributed government-sponsored markets, commercial casino markets, Amusement with Prize (AWP) markets, and interactive and sports betting markets. SPIELO International serves more than 1,650 customers on five continents and has shipped more than 225,000 gaming machines worldwide, and holds more than 350 gaming licenses.
SPIELO International Canada ULC is 100 percent owned by Lottomatica Group S.p.A., a market leader in the Italian gaming industry, one of the largest Lottery operators in the world based on total wagers, and a leading provider of lottery and gaming technology solutions worldwide. SPIELO International is also an affiliate of GTECH Corporation, a leading gaming technology and services company. For more information on SPIELO International and our products, please visit our website at http://www.spielo.com.
About Lighthouse Systems
Lighthouse Systems is one of the world's leading developers of Manufacturing Execution Systems (MES) with offices in London, Singapore, Australia and Rochester, NY. Lighthouse Systems Shopfloor-Online is web-based modular software that provides real-time visibility of the entire manufacturing operations environment. Applications include Maintenance Management, Concern Management, Quality, SPC, Downtime, OEE, Spoilage and Inventory Traceability. Shopfloor-Online is being used in a wide range of industries with some of the biggest manufacturing companies; it is deployed in 15 languages in 28 countries.