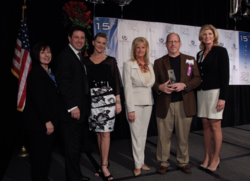 Brides choose their favorite vendors to help other brides with their planning and knowing we're making our brides so happy is the icing on the cake!
Houston, Texas (PRWEB) February 28, 2013
Three Brothers Bakery, Houston's 63-year-old baked goods staple, was pleasantly surprised to win two prestigious awards in the first two months of 2013. The bakery's January win was from national wedding website, The Knot, and the February award came from a local Chamber of Commerce.
Because the bakery has created dream wedding cakes along with beautiful wedding day memories for brides and grooms for decades, becoming The Knot's 2013 "Best of Weddings Pick" was a perfect compliment. Thousands of brides review countless wedding vendors to select their favorites, and Three Brothers Bakery was thrilled to be acknowledged for the fourth year in a row with this highly sought after accolade.
The Knot is the Internet's most highly visited wedding website, offering a one-stop solution to brides in their wedding planning processes. Through the website's "Best of Weddings Pick!" award, The Knot, provides the best vendors in each city to brides, as decided by other brides on the website.
"We are honored to have once again been chosen by brides as a 'Best of Weddings Pick' on The Knot," said Bobby Jucker, co-owner and fifth generation baker. "Brides choose their favorite vendors to help other brides with their planning and knowing we're making our brides so happy is the icing on the cake!"
In addition, the bakery received a local award for its new Memorial store located at 12393 Kingsride Lane. Just before celebrating its first year in business earlier this month, accepting the Houston West Chamber of Commerce's STAR Award served as an incredible ending to a terrific first year in the Memorial area. Three Brothers Bakery took home the STAR Award on February 8th in the category of "Newly Opened Business with 1-10 Employees."
The STAR Award is awarded annually to outstanding businesses in West Houston who have achieved what the Houston West Chamber of Commerce refers to as "mighty and bold accomplishments." The winning businesses also maintain a positive influence in the community, while bringing employees and positive economic shifts to the West Houston area.
Bobby Jucker was delighted to receive this award. " "We have enjoyed being a part of this community and the area has been so welcoming to us. They made the entry into the market a true pleasure, " said Jucker.
Three Brothers Bakery is hoping to achieve similar success in March, as it's been nominated as a Best of Citysearch Dessert Spot. Active users on the Citysearch site will vote for their favorites in various categories, and Three Brothers Bakery was honored just to be included in the "best dessert spots" nomination alone.
For more information regarding Three Brothers Bakery or their recent awards and accolades, as well as their delicious sweet and savory treats, please contact Jenny Selber at 713-416-7280 or jenny@integratepr.com.
About Three Brothers Bakery
The traditions of Three Brothers Bakery began in Chrzanow, Poland circa 1825, and continued to thrive despite the family's concentration camp imprisonment during the Holocaust. Their miraculous liberation, and subsequent move to Houston, brought Eastern European scratch baking traditions to 4036 S. Braeswood Blvd and 12393 Kingsride Lane, where the owners are now proud to call themselves "memory makers who just happen to be bakers." Perfecting the process for almost 200 years, each day the fifth generation bakers produce mostly dairy-free breads and pastries, cookies, a full line of specialty dessert cakes and pies, as well as custom birthday, special occasion, wedding and groom's cakes using only the highest quality ingredients.
The Three Brothers Bakery pecan pie was named "the best mail order pecan pie America has to offer" by Country Living magazine, and most recently, bakery owner, Bobby Jucker competed in the popular 'Food Network Challenge' and has been seen on Food Network's Outrageous Food. Three Brothers Bakery is a certified Woman-Owned Business through Women's Business Enterprise National Council, and a State of Texas Historically Underutilized Business.
Follow Three Brothers Bakery on Facebook and Twitter for Houston area news, information and events.
###