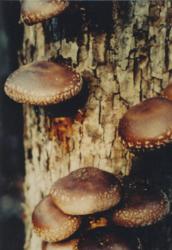 "As shiitake research continues, we are expanding our knowledge and deepening our conviction that this is an important and sustainable food, a pharmaceutical food as well as a rich source of protein, vitamins and minerals."
Perkins, OK (PRWEB) February 28, 2013
Lost Creek Mushroom Farm owner Sandra Williams, PhD, speaking for The Voice of the Mushroom Foundation, is calling for a greater appreciation and understanding of the health and medicinal benefits of shiitake mushrooms.
"We shiitake growers speak of shiitakes as a 'functional food' because it has such a rich supply of health and medicinal compounds and properties," she said.
According to an announcement from The George Mateljan Foundation for The World's Healthiest Foods, a non-profit resource for the latest scientific information on healthy foods, "recent studies have shown the ability of shiitake mushrooms to help protect us against cardiovascular diseases (including atherosclerosis) by preventing too much immune-cell binding to the lining of our blood vessels. In order for immune cells and other materials to bind onto our blood vessel linings, certain protein molecules - called adhesion molecules - must be produced and sent into action. By helping to block the adhesion molecule production process, substances in shiitake mushrooms can help protect our blood vessels. (The adhesion molecule production that is partially blocked by shiitake mushroom components includes the adhesion molecules ICAM-1, VCAM-1, and E-selectin.)"
Furthermore, shiitakes are known to be an effective non-animal-food source of iron. The same Mateljan Foundation report stated that a recent preliminary study (on rats) has determined the bioavailability of iron from shiitake mushrooms "to be equally as bioavailable as supplemental iron in the form of ferrous gluconate. (Ferrous gluconate is a very commonly used low-dose iron supplement.)"
For Williams, These studies and more "take us a couple of steps further in the existing contemporary medical research and applications for shiitakes: in treating AIDS and arthritis; gastrointestinal, breast, lung, liver, stomach, sarcoma 180 cancers, and melanoma; tuberculosis; yeast and mold; macular degeneration of the eyes. Shiitakes can improve wound healing. And list is not complete."
Williams, who presented a program on medicinal mushrooms for Autism Spectrum Disorder at the 2011 Autism One Conference, is adamant about promoting shiitakes as a successful treatment for yeast and fungal diseases. "Children with autism are especially prone to Candida albicans infections because of the need for antibiotics and because their immune systems are compromised."
"The propensity toward Candida infestation affects many people, especially American women and children, as our processed foods are heavy with sugars and high-fructose corn syrups."
Robert Rogers, author of The Fungal Pharmacy, The Complete Guide to Medicinal Mushrooms & Lichens of North America (2012), reported, "Cell-free extracts from liquid fermentation inhibited growth of Candida albicans. The mushroom juice was found to have a pronounced effect on C. albicans, S. aureus, E. coli," without affecting healthy intestinal bacteria. (261)
Rogers also points out that "shiitake has been used in traditional Chinese and Japanese Kampo medicine for centuries to increase stamina and circulation and help to alleviate arthritis, diabetes, high blood cholesterol, and immune deficiency." (258)
Williams' reported that shiitakes can elevate mood and generate feelings of joy. "They were used in earlier times to relieve sorrow and grief, especially grief from the past."
"As shiitake research continues, we are expanding our knowledge and deepening our conviction that this is an important and sustainable food, a pharmaceutical food as well as a rich source of protein, vitamins and minerals."