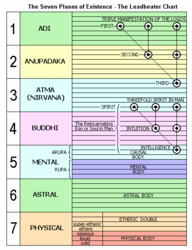 Getting enough sleep and taking time to eat a decent meal are as just as much spiritual acts as Buddha sitting under a Bodhi tree and becoming aware. It's all connected, and it all impacts the rest.
Munnsville, NY (PRWEB) February 28, 2013
Reconnective Healing practitioner Tim Emerson of Kwan Yin Healing will present "Levels of Being/Raising Vibration: Understand the Body's Energy" on March 12, 2013, at 7:00 p.m. EST, the first of a series of complementary teleseminars offered in March and April. The call will culminate with a group healing session.
"People see the physical and the spiritual as different aspects of being, sometimes even in conflict with each other," notes Emerson. "But they're really the same energy vibrating at different frequencies."
The Hindu view of the body is like a set of Russian nesting dolls, each vibrating at different frequencies, similar to states of matter—warming ice brings water and then steam—but existing all together all at once. The physical body, and that vibration/frequency, sets inside the emotional body and that vibration/frequency, considered a "higher" plane of existence, that sets inside the mental body, considered a still "higher" (faster, really) vibration/frequency, that sets inside a spiritual body, called the "causal" body. This name is telling—things that happen here flow "downstream" to lower (that's is, slower, more dense) vibrations/frequencies/bodies/planes of existence.
These are not truly separate nesting bodies, though, but an integrated whole. When mentally upset, people experience physical manifestations of this, from tension to shorter breathing to physical illness. And when lacking sleep or skipping meals, our mental and emotional capacities are lessened. It's a system. Thus, regular nourishment and sleep are as important and as spiritual as meditation. Raising vibration is a useful metaphor, but integrating and balancing total vibration is far more useful—and healing. It's about a stable coherence of energy, at all levels, vibrating harmoniously in sync.
Incidentally, these planes of existence continue to three higher planes that are inherently connected. Individuals are actually "fingers" of existence extending "down" to the mental level of awareness, but above that point where current awareness is cut off, all are one, literally, part of the same "hand." So "above" the causal body (the level of intuition, incidentally) is the atma, which includes both the spirit and the lowest of the three-fold manifestation of the logos—literally, All are One here. This is the level of Nirvana.
The top two planes are beyond mental understanding, because individuals are manifest only on the lower five. But the complete energy spectrum, the range of vibration and frequency that all are, this third manifestation of the logos (force-matter) continues uninterrupted to these highest levels, the second manifestation of the cosmos (the anupadaka—life form) and the first manifestation of the logos (the adi—divinity).
"It's all One, a continuum," Emerson explains, "So don't overlook the obvious. Getting enough sleep and taking time to eat a decent meal are as just as much spiritual acts as Buddha sitting under a Bodhi tree and becoming aware. It's all connected, and it all impacts the rest. That's why ego is such a delusion. That's why Enlightenment only truly matters when all beings reach it—and if they don't, it doesn't particularly matter. They already are. Everything already is."
The teleseminar is the beginning of a series of presentations covering background material that will lead to "The Reconnective Journey," an eight-week program offered in May and June. "We are living shadows of the lives we could be living," says Emerson. "The seminar focuses on helping people get unstuck and to follow their passion and their true paths, in very practical terms aimed at achieving palpable results, as well as facing and overcoming the obstacles preventing full life success at present."
Participants need to register for the teleseminar. More information about Kwan Yin Healing is available at http://kwanyinhealing.com.