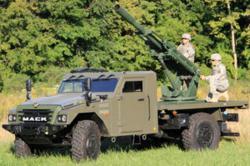 Rock Island, IL and Littleton, MA (PRWEB) February 28, 2013
The Hawkeye, mounted on a Mack Sherpa, completed live fire testing at Camp Atterbury, IN. The tests were supervised by Benet Laboratories and included both indirect and direct fire. The new video captures those tests.
The Hawkeye is a lightweight, modular, high performance howitzer that has set a new standard in firepower, tactical mobility, strategic deployability, and command and control. It can be integrated with many types of combat transportation including wheeled, tracked, rail, watercraft, aircraft and towed systems. The Hawkeye's versatility is owed to the unique combination of lightweight materials and low recoil forces provided by the emerging technology of soft recoil. This technology allows carriage structures to be up to 50% lighter than conventional recoil systems and provides an added ergonomic advantage by having the breech rest behind the carriage in all elevations and traversing conditions.
The Hawkeye has the ability to traverse 360 degrees and has an elevation range between -5 to +66 degrees. It can fire a standard projectile 11,500 meters and can max out its range to 15,100 meters with a rocket-assisted projectile. A three-man crew can fire the Hawkeye at a rate of 10 to 12 rounds a minute and sustain a pace of 6 rounds per minute during extended firing.
Mandus Group's 105mm Weapon System utilizes Diamond Roll-Rings® to transfer power between the turret carriage and the truck deck for the azimuth and elevation motors. The rugged Roll-Ring assembly is designed to transfer power for the life of the system without ever requiring maintenance. The Roll-Ring assembly, unlike slip rings, does not include any maintenance access covers. The maintenance-free benefit eliminates the need to ever remove the weapon from the truck deck for maintenance of a slip-ring. The dust-free operation of the Roll-Ring assembly means there is never any slip-ring dust to be cleaned which means no requirement to train maintenance personnel or to keep spare parts on hand.
About
Mandus Group LTD offers a unique line of products that provides the war fighter value added support were it is needed the most, in the field. Mandus Group has incorporated its patented recoil system in its new Hawkeye 105mm howitzer, a true game changing capability now available to battlefield commanders. Mandus Group also has a product line that will assist in current and preventative maintenance of artillery and many other military systems and equipment and includes: Hydraulic Oil Filtration and Transfer Systems, Nitrogen Generating and Intensifying Systems, Barrel Cleaning Systems for large and small caliber weapons, Hydraulic and Pneumatic Line Cleaning Systems. Mandus Group is located next to the Rock Island Arsenal in Rock Island, Illinois. http://www.mandusgroup.com
Diamond-Roltran, LLC provides the proven maintenance-free Roll-Ring® rolling electrical contact solution to replace slip rings for rotary power, signal and data transfer requirements for mission critical applications the world over. Diamond-Roltran supplies its l Roll-Rings® directly to military and aerospace customers worldwide and supplies Roll-Rings® integrated into rotary couplers for microwave antenna applications through Diamond Antenna & Microwave and Diamond Antenna Europe BVBA. http://www.diamondroll-ring.com