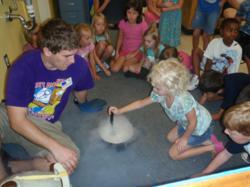 Tampa, FL (PRWEB) February 28, 2013
Registration for the Museum of Science & Industry's 2013 Summer Science Camps is now open. MOSI's Summer Science Camps begin Monday, June 10, and registration is available at MOSI.org.
Whether it's rocks or rockets that interest your child, MOSI's Summer Science Camps offer something for everyone. Through hands-on experiments and projects, children will learn the wonder of Science, Technology, Engineering and Math (S.T.E.M.). Attendees will have the opportunity to build roller coasters, create art with lasers, participate in a battle at Hogwarts, decipher DNA to solve crimes or cook up edible slime, depending on their age group and the week they attend.
For teens, MOSI's S.T.E.M. Career Camps provide students plenty of opportunities to explore careers that utilize S.T.E.M. skills through active, project-based experiences with the support of field experts and scientists. Through real-world experiences in a fun, thought-provoking environment, students will make discoveries about S.T.E.M. careers in addition to discoveries about their own interests. Receive a S.T.E.M. Certificate of Achievement for successful completion of each of these camps.
Summer camp sessions are available to children in preschool through high school. Multiple week and multiple child discounts are available. Extended care and hot lunches are offered for an additional fee. For more information, class descriptions and prices, visit http://www.mosi.org.