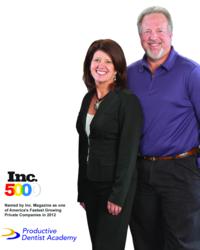 We take a close look at what each practice can support in terms of a marketing budget.
Anacortes, WA (PRWEB) February 28, 2013
Productive Dentist Academy is expanding its services to offer complete dental marketing services to dentists nationwide. Moves like this are why Productive Dentist Academy has become one of the fastest-growing businesses in the U.S., said Dr. Bruce B. Baird, CEO and founder of the company.
"I attribute our rapid success to our adaptability and innovations," Baird said. "These two traits have poised us for greater growth in 2013. "
Now located in Washington State, the dental-management consulting company is already one of the nation's fastest-growing small businesses and was ranked 245th in 2012 on the Inc. 500/5000 fastest-growing list under the health industry category, experiencing an astonishing 73 percent growth in revenues during the previous three years.
"What sets our full marketing programs apart is that we take a close look at what each practice can support in terms of a marketing budget," said Vicki McManus, COO of the academy. "We determine the best course of action for implementing marketing programs within that budget. Then we make sure the dental office teams are prepared to convert callers into new patients. It's a 360-degree view of marketing that ensures maximum ROI and ease of implementation."
Productive Dentist Academy has three primary divisions: seminars/team training, dental-management consulting, and dental-marketing implementation. These three distinct areas overlap and combine to provide clients with seamless solutions to their operational and revenue-producing challenges.
"We want to grow in response to client requests," Baird said. "From start-up to retirement, we've expanded our dental management team and offerings to tackle the tough challenges of dental entrepreneurs."
Services provided by The Academy's marketing division include custom design and printing of dental brochures, a Web-site design and content management service, staff training programs, on-site video production, a patient referral program, and services to develop strategic marketing plans and demographic reports for dental offices.
For more information, go to http://productivedentist.com/marketinggroup.
The academy also offers comprehensive marketing programs in which it provides full support to clients, including training and vendor contact all the way up to full marketing plan control and deployment.
About Productive Dentist Academy:
Founded in 2004, Productive Dentist Academy is a leading provider of dental-productivity seminars and dental-marketing services. It has worked with more than 1,200 private-practice owners throughout the United States. It is a privately held company owned by Dr. Bruce Baird (CEO) and Vicki McManus (COO). It also helps dentists begin the process of preparing their practice for transition. The Academy consists of a team of consultants in the areas of hygiene, public relations, dental marketing, insurance/PPO negotiation, and other major fields of dentistry. Its team helps dental practices execute agreed-upon plans to increase productivity, profitability, team building, improved service mix, hygiene department development, and more, providing continuing education to licensed dentists and their teams. The dental-marketing company got its start in Texas, but is now headquartered in Anacortes, Wash.