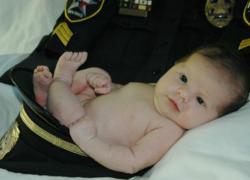 When we started this process seven years ago, we thought we would get pregnant easily...
Dallas, TX (PRWEB) February 28, 2013
The donation of IVF treatments by raffle or random drawing has been questioned by critics who feel that they somehow trivialize or take advantage of couples who are struggling to conceive. A Dallas couple who won a drawing for free IVF treatment is celebrating the birth of their daughter as a result of their free treatment.
Courtney and Jeff Mitchell were recipients of a donated IVF treatment at a Sher Fertility Institute seminar in Dallas in 2011 and had been struggling for years with infertility. They had undergone treatment unsuccessfully in Dallas and had then traveled to Philadelphia to split treatment costs with another couple. Unfortunately, the treatment was unsuccessful, leaving the Mitchells without the resources to pay for additional fertility treatments. Because having a baby was so important to them, they sold their house to finance an additional IVF treatment in Dallas. Sadly, this treatment failed as well, and the Mitchells were left childless and in debt.
It was shortly afterward that the Mitchells heard about the Sher Institute seminar and IVF donation, and decided to attend on the remote chance they would win. Unfortunately, their names weren't drawn at the seminar. Undeterred, they patiently waited for another donation and attended a Sher Institute seminar again the following year. Against the odds, their names were drawn as the winners of the IVF treatment at this seminar. Winning the donated IVF cycle gave them a strong sense of renewed hope for the future.
They began their IVF treatment in January of 2012, which included specialized immunologic treatment for a condition known as "Activated Natural Killer Cells" that were causing embryo implantation problems. Shortly afterward, they found out that the treatment had been successful and they were expecting. In October of 2012, their daughter Sophia was born.
"When we started this process seven years ago, we thought we would get pregnant easily," said Courtney. "Little did we know what we were in for. We are so grateful to have received this opportunity. Sophia is the light of our lives and we really feel like we wouldn't have her without this IVF donation."
Sher Fertility Institute of Dallas will be hosting two free infertility education seminars on Saturday, March 30, 2013 at Medical City Hospital. The seminars will be highlighted by the donation of two more IVF treatments as part of their "Giving Back" initiative. The Institute has donated more than 50 treatments over the past three years through similar events.
Attendees can choose either the 10:00am or the 1:30pm seminar. Details can be found on the Sher Institute website at http://www.haveababy.com.
About Sher Fertility Institute
Sher Fertility Institute is a national network of fertility clinics specializing in leading-edge technology, personalized infertility treatment, and compassionate reproductive care. SIRM Founder Dr. Geoffrey Sher established the first private In Vitro Fertilization (IVF) program in the United States and is a recognized authority and pioneer in the field of reproductive medicine. Dr. Sher and the institute's other fertility specialists have been influential in the development of dozens of important breakthroughs in the treatment of infertility and reproduction.