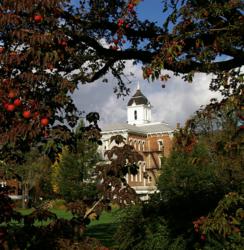 Many application deadlines are due in March, says a Linfield College vice president.
McMINNVILLE, Ore. (PRWEB) February 28, 2013
"Competition for college scholarships is fierce this spring, but students shouldn't despair," said Dan Preston, who oversees enrollment at Linfield.
"A lot of students assume they won't qualify for scholarships because they don't have a high grade point average or a varsity letter," Preston said. "But many scholarships are tied to other talents, such as music, acting or debate."
And now is the time to apply, said the Linfield College vice president. Many application deadlines are in March.
Five simple strategies can give students an edge:

Know the basics. Many scholarships are based on financial need, while others are merit-based, tied to academic achievement or a combination of good grades and specific talents, interests or traits, such as ethnicity. Awards vary in size, with some even covering multiple years. No scholarships need to be repaid.
Be resourceful. Students should check out financial aid websites at colleges, or even academic department websites. They can also check with their high school, local foundations, churches, and business or civic groups. They can even ask their employer or parents' employer about scholarships.
Streamline the process. National scholarship databases such as Fastweb.com, Scholarships.com, College Board or Cappex offer one-stop resources with multiple possibilities, and many states have central websites where one application form allows students to apply for multiple scholarships.
Watch out for scams. Students should never pay to learn about or apply for a scholarship, and shouldn't contract with agencies that promise to find a scholarship for a fee. If it sounds too good to be true, students can get a second opinion from high school counselors or college aid offices.
Check requirements and meet deadlines. For example, give people who are writing references plenty of time to complete a letter or evaluation, and give high schools enough time to process transcript requests.
It takes time and effort to receive scholarships, and requires determination and persistence," Preston said. "All students need is a solid plan and a commitment to follow through. It's possible for anyone to go to college."
Linfield College is dedicated exclusively to undergraduate education, and is home to a vibrant community of engaged students. The small college is nationally recognized for its strong teaching faculty, outstanding academic and professional programs, and distinctive international programs.