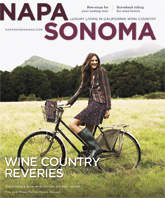 There is nothing better than to help businesses solve problems - Stephanie Ericson
Walnut Creek, CA (PRWEB) February 28, 2013
Stephanie Ericson has joined Diablo Publications as a sales executive for Napa Sonoma magazine and Concierge Wine Country. Ericson brings an extensive background in publishing, having started her career in audience marketing and circulation, then migrating into advertising sales. Her background also includes serving as publisher of Computer Currents magazine for over five years, as well as the VP of sales and marketing for three dot-com properties. After a brief hiatus, she returned to her publishing career as an account manager with Marin Magazine in October 2008 and became the publisher in 2011, prior to starting her own business.
Ericson currently owns and manages an advertising and marketing firm named Options Media Group. Napa Sonoma magazine and Concierge Wine Country are an integral part of her clients' advertising options. Ericson has many different marketing opportunities now available for her clients in print, online, mobile, and social media, all of which will target the visitors of the Napa Sonoma region.
"There is nothing better than to help businesses solve problems, and most of those problems stem from a lack of sales. When we can come up with creative ways to reach out to the appropriate audience, we see sales grow, and my clients' success is my goal. And now Napa Sonoma magazine and Concierge Wine Country are an integral part of this solution," states Ericson.
About Napa Sonoma magazine
Napa Sonoma shows visitors and residents new ways to experience the Wine Country, including what to see and do through maps, an events calendar, extensive listings of restaurants, accommodations, spas, outdoor activities, and arts and culture venues, plus a comprehensive winery guide. Napa Sonoma magazine guides readers off the beaten path, with insightful stories about what makes the region such a spectacular destination.
About Concierge Wine Country
Filled with lavish photography and packed with information and insider tips, Concierge Wine Country reaches affluent Bay Area visitors as they make plans in the comfort of their hotel rooms. Found in the region's premier hotels, inns, and B&Bs, Concierge Wine Country guides visitors through the world-renowned Napa and Sonoma region.
About Diablo Publications
For over 32 years, Diablo Publications has been creating award-winning publications, including Diablo magazine, Napa Sonoma magazine, the Diablo City Book Series, Diablo Arts, and the Tri-Valley California Visitors Guide. Covering travel, theater, lifestyle, and home design, Diablo Publications celebrates the people, places, and pleasures of the East Bay and North Bay. Diablo Publications' custom content division, Diablo Custom Publishing (DCP), provides complete print and online marketing communications and customer publishing services for corporate clients nationwide. For more information, visit diablomag.com or dcpubs.com.