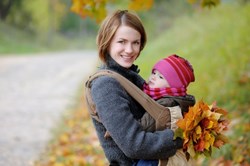 The holy grail in baby carriers is one that can works perfectly from newborn to toddler.
Cheyenne, WY (PRWEB) February 28, 2013
Baby product test-based review site BabyGearLab.com announced the results of its 2013 Best Baby Carrier Review awards today. BabyGearLab testers put the top 15 baby carriers through an extensive three-month testing process to determine the winners. All the carriers were tested side-by-side, and with babies of different ages, from infant to toddler. The following performance metrics were included in the rating system: baby's safety, baby's comfort, parent's comfort, ease-of-use and ease-of-cleaning. In the end, BabyGearLab gave the Beco Baby Gemini its Editors' Choice Award and the Infantino Sash Mei Tai its Best Value Award. The Baby K'Tan was awarded Top Pick for Use With a Newborn. View the complete details of BabyGearLab's Best Baby Carrier Review on BabyGearLab.com.
The winners are listed below:

Editors' Choice Award went to Beco Baby Gemini. "The Beco Baby Gemini is a fantastic product because it is as simple and beautiful as it is functional, and fits babies as well as toddlers. We especially love that it holds children on the adult's backside and front, and in both the baby back- and forward-facing positions; no other soft-structured carrier that we tested provided as many carrying options," Dr. Spurrier said. "And the fact that it's so easy to take on and off, clean and wear made it a clear winner in our testing."
The Infantino Sash Mei Tai took the Best Value Award for its high quality, sturdy design and affordability. "The Infantino Sash Mei Tai wrap-style, is Infantino's best design from our perspective because it's flexible and easy-to-use, with clear, written directions on the carrier itself to help with placement. Using ties to secure baby, this carrier provides excellent hip/spine positioning in a lightweight and soft fabric, making it comfortable for both mom and baby," Dr. Spurrier commented.
The Baby K'Tan earned a Top Pick Award for Use With a Newborn. "Newborns love nothing more than a cozy snuggle hold with mom or dad, and the Baby K'Tan provides this kind of carry perfectly. We loved the ultra-soft 100% cotton material, ease of use, simple elegance of the Baby K'Tan. Offered at an affordable price, the K'Tan offers great performance with younger babies," Dr. Spurrier commented.
BabyGearLab editors have also released an online article offering buying advice entitled, "How to Choose the Best Baby Carrier." This buying advice guide includes an explanation of the many benefits of "baby wearing," and expands on the features one should consider before buying including safety, comfort and ease-of-use. In conclusion, Dr. Spurrier suggests purchasing a carrier that's, "simple yet supportive."
About BabyGearLab LLC
BabyGearLab's mission is to create clarity around the entire baby-product buying-decision process. Founded in 2012 by mother-of-two and Board-certified pediatrician Juliet Spurrier, MD, BabyGearLab is committed to producing the world's highest quality reviews based on extensive testing, buying advice guides, and heath and safety articles in relation to baby products most often used during the first year of a baby's life. BabyGearLab's newest service is a 2013 Baby Shower Gift Guide with products selected based on their quality, health, and safety.