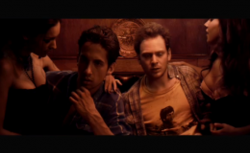 Treasure of the Black Jaguar embodies the essence of the classic 'treasure hunt' movies with a modern, hipster spin that will resonate with audiences.
Los Angeles, CA. (PRWEB) February 28, 2013
The idea of 'making a quick buck' and 'fast cash' never seems too out of out fashion with each new generation, and it would seem in a tough economy like this, the idea has grown to a fever pitch. Parents don't often hear their children these days telling them that they'll be hiking in the desert to find gold!
"Treasure of the Black Jaguar" is a new movie about two best friends who head down to Mexico in an effort to make some fast cash on a "simple ganja deal." Almost before either of them can blink an eye, Anthony (actor Cameron Van Hoy) and Shlomo (actor Michael Drayer) wind up in a Mexican jail where they're given an ultimatum by treasure hunter, Blake West (actor Timothy V. Murphy,) break out of jail with him, or remain behind bars where big tough guys will be waiting to make them their girlfriends.
Blake dangles the offer of $10,000,000 to each of the hipsters, if they help him retrieve a gold Mayan statue called the Black Jaguar Deity, which is hidden in the blazing hot Mexican desert. The two buddies decide that tremendous wealth is preferable to becoming jailbait and they go along with Blake's plan. Of course, it's a lot more dangerous than it sounds, especially since they are not the only ones on a hunt for the Deity.
In order to prepare for a part almost entirely filmed in the desert, lead actor Cameron Van Hoy said, "We lived out there. No hotels. No nothing. Climbing mountains, catching snakes, camp fires. No connection to the outside world. We were removed from society."
Well, that will certainly helped keep the independent film's budget under costs. For the cast and filmmakers, having the ability to work on a genre-bending project like "treasure of the Black Jaguar" felt rewarding.
"I find gold every time I work on interesting independent projects that allow me to take risks in my craft," said Ellen Gerstein (from Showtime's "Shameless'") who plays Shlomo's overprotective mother, Ms. Shaneberg.
With unsuspecting twists and turns, "Treasure of the Black Jaguar" is an adventurous, grindhouse contemporary western, that combines obvious influences from John Huston's "Treasure of the Sierra Madre," and the earlier features of recent Academy Award winner Quentin Tarantino.
The Hollywood Reporter called the film "well-forged" and "entertaining."
Although "Treasure of the Black Jaguar" is all about gold, greed and plenty of gunplay, behind the scenes, it was nothing short of fun times and lessons learned with friends and family.
"Seriously, this film was a special experience; fun, funny, professional and so very easy," said Gerstein.