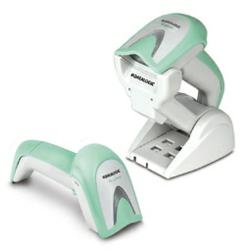 "We are excited to offer a solution advancing patient safety with automatic data capture to improve patient care, reduce medical errors and now with a bar code reader that helps to defeat the transfer of bacteria," stated Bill Parnell, CEO Datalogic ADC.
Eugene, OR (PRWEB) February 28, 2013
The HIMSS13 Annual Conference and Exhibition will be held in New Orleans, March 3 – 7. It is here, that international healthcare professionals will be able to exchange ideas, network and share solutions geared towards the improvement of healthcare systems globally. Datalogic, a global leader in Automatic Data Capture (AIDC), is excited to be part of HIMSS13 where it will be exhibiting data capture solutions that address patient safety, one of healthcare's foremost concerns.
As the most widely used and cost effective AIDC solution, healthcare organizations are using bar code scanning systems to advance patient safety from admittance to post care services. With the ability to capture data, bar code scanning has revolutionized the way hospitals collect information. Now error-prone manual process can be eliminated to improve patient safety, patient care, as well as, the productivity of medical teams.
Datalogic is a leading manufacturer of healthcare technology products that help hospitals increase their efficiency. Our Gryphon TM series of healthcare handheld scanners allow hospital staff to collect data from bar codes. The Gryphon healthcare product series is specifically developed for healthcare applications and have two layers of protection against the spread of infection. Gryphon scanners have Disinfectant-Ready enclosures designed to withstand daily cleaning with harsh disinfectant solutions. These products are also manufactured with Anti-Microbial additives that inhibit the growth of micro-organisms on the enclosure itself, earning Datalogic the ISO22196 certification. The Gryphon handheld scanners are available in both 1D and 2D functionality, and also available as corded or cordless readers. These scanners offer the patented Datalogic Green Spot Technology, providing a silent confirmation of a bar code reading amidst the setting of sleeping patients and various electronic noises found in the common hospital setting.
The Datalogic Gryphon scanners offer the option of the "Perfect Match Feature", acknowledging the importance of the Patient's Five Rights. Perfect Match is a healthcare-focused data verification tool that is primarily used during bedside point-of-care activities, such as Bar Code Medication Administration (BCMA), to protect patients against medical errors. The system works by first matching (scanning) a patient's identification wristband and the corresponding medical record. If the two bar codes are a Perfect Match, the reader will 'beep' and show a Green Spot directly on the bar code, confirming that the patient and medical records are a positive match.
"We are excited to offer a solution advancing patient safety twofold: first with automatic data capture to improve patient care and reduce medical errors and now with a bar code reader that helps to defeat the transfer of bacteria," stated Bill Parnell, President and CEO, Datalogic ADC. "The Gryphon Healthcare series will not only protect patients and employees, but also healthcare technology investments with years of reliable performance."
Datalogic offers a line of Handheld Computers with 2D bar code readers designed for Bedside Point-of-Care, when staff mobility and accurate information collection is needed. These devices are also Disinfectant-Ready to withstand harsh cleaning solutions.
Be sure to stop by the Datalogic Booth 1050, to witness how the Datalogic AIDC offerings enhance patient safety within the various healthcare settings.
Datalogic ADC, the world leader in Automatic Data Capture, offers state of the art solutions with fixed position retail scanners, handheld scanners and mobile computers. Datalogic ADC's range includes in-counter and on-counter point of sale scanners, general purpose and ruggedized handheld scanners, rugged mobile computers, industrial PDAs and vehicle mount computers. Solutions for applications in several sectors include healthcare, hospitality/entertainment, manufacturing, retail, services and transportation & logistics.
Businesses in the retail sector can particularly benefit from Datalogic ADC's vision-based technology solutions, analytical tools, self-shopping solutions and consumer relationship technologies.
A division of the Datalogic Group, Datalogic ADC is headquartered in the US with a presence in over 120 countries.
For more news and information on Datalogic ADC, please visit http://www.adc.datalogic.com.
Datalogic Group is a global leader in Automatic Identification with a specific focus on the Automatic Data Capture and Industrial Automation sectors. As a world-class total solutions provider and producer of bar code readers, data collection mobile computer and vision systems, Datalogic offers innovative solutions for a full range of applications in the manufacturing, retail, healthcare and transportation & logistics industries. Datalogic S.p.A., listed on the STAR segment of the Italian Stock Exchange since 2001 as DAL.MI, is headquartered in Lippo di Calderara di Reno (Bologna). The Group's recent acquisition of Accu-Sort Systems Inc., a leading supplier of Automatic Identification products and solutions in the United States, has doubled its presence in the Industrial Automation market, escalating Datalogic to undisputed leadership in the Industrial Bar Code Scanners segment with a market share of 31%. Datalogic Group as of today employs more than 2,400 members of staff worldwide, distributed in 30 countries across Europe, the Americas and `the Asia Pacific region. In 2011 Datalogic Group achieved revenues for 425,5 million Euro and invested over 26 million Euro in Research and Development with a portfolio of over 1,000 patents across the world.
For more news and information on Datalogic, please visit http://www.datalogic.com.
Datalogic and the Datalogic logo are registered trademarks of Datalogic S.p.A. in many countries, including the U.S.A. and the E.U. Datalogic ADC and the Datalogic Automatic Data Capture logo are trademarks of Datalogic S.p.A. Gryphon is a registered trademark of Datalogic ADC, Inc.
Contact:
Pam McQueen
Pam.mcqueen(at)datalogic(dot)com
541-302-2012
###