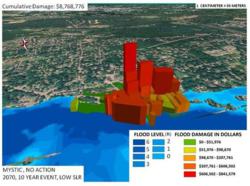 As more cities and regions are hit hard by storms, public pressure for better infrastructure planning is growing. A consensus is emerging that just "putting it back the way it was" is not the right answer.
Washington DC (PRWEB) February 28, 2013
The Security and Sustainability Forum announces our next session, "Community Engagement on Climate Response Decisions – The COAST Model." Sam Merrill, professor at the Muske School of Public Service at the University of Southern Maine, and president of Catalysis Adaptation Partners will demonstrate COAST (COastal Adaptation to Sea level rise Tool). Join us March 19, 2013, 12:00-1:30 pm Eastern to hear about case studies and learn how the tool could be useful in your community.
COAST helps stakeholders visualize the costs and benefits associated with different risk mitigation alternatives. It is difficult to actively pursue mitigation and adaptation efforts when the consequences of an extreme weather event seem far in the future. Community leaders may be ready to take action, but may also be unsure which actions are good investments. How much risk mitigation would they really buying with different strategies?
It is a technical tool, but the primary added value is in how COAST is used, connecting technical results with the social, political, and economic realities of local adaptation. 3D visualization of adaptation scenarios empowers stakeholders to actively engage in discussions about their future and the trade-offs involved in pursuing different strategies. Being entirely stakeholder driven, and using local data on vulnerable assets and candidate adaptation actions wherever possible, COAST results generate enthusiasm and buy-in not available through most other approaches.
About the Security and Sustainability Forum
SSF is a public interest, membership organization that hosts free, live educational webinars. Sessions feature panels of global experts who address human health and welfare impacts caused by climate change, other environmental disruptions, and institutional shortfalls. In 90 minute forums, we invite experts explain the issues and discuss emerging research, and innovative technology and policy solutions. Through theory and case studies, the webinars outline how sustainable approaches are working to mitigate and adapt to a changing climate in a rapidly urbanizing world. Our programs seek to not only educate our audience about sustainability and how it fits into their areas of interest and work, but also spark new ideas about resilient approaches and solutions.
Access to SSF's webinar archive is offered through a free membership program.