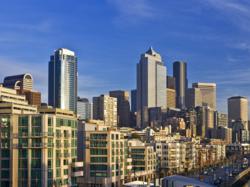 It's been fifteen years since we've experienced a dearth of new unit deliveries like this." Dean Jones, Owner Realogics Sotheby's International Realty
Seattle, WA (PRWEB) February 28, 2013
Research prepared by Realogics Sotheby's International Realty (RSIR) suggests current availability of new and resale condominiums in the center city is at its lowest supply level in more than a decade. Just 120 units remain for sale today compared with an estimated 2,500 units that were actively being marketed during the inventory peak in early 2008. Meanwhile robust job growth, low mortgage rates and rising rents have driven up present demand for homeownership; buoying the median home prices downtown to pre-recession levels approaching $500,000.
"The supply of condominiums (downtown) is historically low compared with other cycles," said Dean Jones, Principal of RSIR. "It's been fifteen years since we've experienced a dearth of new unit deliveries like this. Numerous apartments are being built for rent but unfortunately, for-sale product remains underrepresented in the pipeline. There are few new "for sale" projects in an active development mode."
Public records show no new condominium buildings delivered in downtown Seattle for a two year period spanning 1997 and 1998. A similar phenomenon occurred in early 2010 according to Jones, and he thinks it may be 2015 before any substantial condo inventory delivers. This most current supply challenge is caused in large part to the lack of construction financing following the global credit crisis in 2007 and it will represent a "material deficit in production ahead," he says.
"The trial with high-rise construction is demand can rise quicker than supply," adds Jones. "We're quickly working through the standing inventory of new homes in downtown Seattle. That bodes well for resale properties and especially for the shadow inventory. We're monitoring several hundred investor units that were purchased during the condo boom between 2005 and 2007 – many were leased out when the market corrected. Many of these units will likely make their way back to market as values rise and newer apartment buildings compete for their tenants."
According to the Northwest Multiple Listing Service (NWMLS) only 26 of the 57 new construction units available are listed on the database. New inventory ranges from one bedroom units priced from $479,000 to expansive two and three bedroom condominium estates priced at $7,155,000. The median asking price of new condominiums in downtown Seattle is $1,292,000 or an average of $865 per sq. ft. – that's more than twice the median asking price of active resale inventory, which is $609,750 or an average of $563 per sq. ft.
Notwithstanding higher prices, new construction has been outselling resale inventory at a ratio of 2:1 in recent years. Brokers say consumers prefer new design features and amenities, home warranties and corrected property values. But for the first time since the start of the last housing cycle, which began in 2005, the total resale inventory now exceeds that of new construction supply.
Jones believes the trend for median home prices will continue to rise as increasing demand meets a finite supply. He notes inventory of both active and pending listings is well above $500,000 – a harbinger of the market ahead. New construction projects will likely ask higher prices during presales because that inventory will deliver in a future market. In order to pencil, these projects must digest high land costs and inflation with construction materials, which is escalating because of the apartment building boom. Also the total volume of distressed sales, including short sales and foreclosures, is burning off and now represents less than 10% of the active supply in the center city. Observers say many lower priced homes below $500,000 are experiencing multiple offers.
"Over the past two years the conversation has turned 180-degrees with consumers, brokers, appraisers and lenders alike," says Greg Harris, the Vice President of RC Hedreen Company, developer of the Olive 8 condominiums. "Many wondered if bulk sales, short sales and condo auctions would be successful. It was really a wait-and-see mentality. Now everyone's wondering what happened to the inventory. Preferred selection is thin and some developers are raising prices again.
Olive 8 – a 229-unit high-rise condominium tower in downtown Seattle – was the last high-profile condo auction to occur in Seattle in September 2010. Harris confirms 34 units sold to the highest bidder for an average of $450 per square foot. Since successfully repositioning Olive 8 in early 2011, an additional 105 units have closed at an average value of $627 per square foot. And another dozen sales are currently pending at Olive 8 with an average listing price of $717 per square foot, he says.
The current condominium inventory on the NWMLS in downtown Seattle is evenly distributed with 33 homes priced below $500,000, 27 homes priced between $500,000 and $1 million and 38 homes priced above $1 million.
"There's definitely an increased sense of urgency in our buyers," adds Harris. "Olive 8 has just six new homes remaining. Resales in the building are typically selling within a week or two and some are even closing above asking prices." By example the NWMLS reports a one bedroom at Olive 8 that was purchased for $303,000 in November 2010 closed yesterday for $395,100 above asking price and after just seven days on the market.
About Realogics Sotheby's International Realty:
Artfully uniting extraordinary homes with extraordinary lives, Realogics Sotheby's International Realty has emerged as the leading sales and marketing brokerage firm in downtown Seattle. Recently recognized by the Puget Sound Business Journal as the second fastest growing private company in Washington State for 2012, the boutique real estate firm of approximately 55 brokers consistently ranks among the top producing offices within the markets that it serves. Visit [http://www.RealogicsSothebysRealty.com.