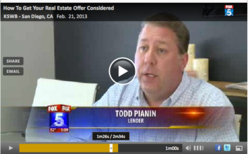 Our lender will actually create a quick little video on behalf of the buyer. These professional touches can have a huge impact on the success of the offer.
San Diego, CA (PRWEB) February 28, 2013
Fox 5 San Diego aired a great interview with Todd Pianin, the owner of Samuel Scott Financial Group, and Daniel Beer of the Daniel Beer Group, this evening. Sharon Chen interviewed the professionals on one of the biggest challenges that today's home buyer is facing: getting their offer accepted. Beer and Pianin shared some of their pro-active approaches to putting their clients' offer at the top of the pile. And with the wildly low housing inventory, the sellers of well priced homes could very well be presented with a pile of 20, 40 or 60+ offers!
Watch the video here: http://www.samuelscottfg.com/fox-news-interview-how-to-get-your-purchase-offer-accepted
Highlights from the interview include these expert ideas:
-- The first thing he advises clients to do is to write a cover letter. "You want to have a nice strong direct cover letter," said Beer. "Hopefully a real estate agent is preparing that for you." Beer said the idea is to aim for the heart. "You really do have to get strategically personal to make a connection with that seller and hopefully you can gain a little bit of an emotional advantage," said Beer.
-- In addition to the letter, include a face with finances. "Our lender will actually create a quick little video on behalf of the buyer". The lender said the video adds another level of stability for the buyer, according to Todd Pianin. Senior Managing Director at Samuel Scott Financial Group.
-- "We talk about the qualification of the buyer, how strong they are and how they can close on time," said Todd Pianin. "The seller can feel more comfortable that it's not just going online and getting a loan who knows if they're going to close on time."
-- When it comes to buying a home, Beer said competition is through the roof. It's about getting the attention of the seller. Even then, it's still not a guarantee to seal the deal."What you have is a very good chance of is to make their final three or four to have the attention of the seller to be considered, but it's still not a sure thing," said Beer.
The Top 5 Ways to get your Offer Accepted
Want to learn more about how the expert Mortgage Advisors at Samuel Scott Financial Group create compelling offer letters, personalize the delivery and go above-and-beyond to quality of a borrower? Of course you do!
In this 2-page PDF they break down the Top 5 Ways they use to get sellers interested in their buyers. Realtors, just ask your preferred Mortgage Advisor for a copy.
Borrower? Send an email to info(at)SamuelScottFG(dot)com with your contact information and any details you want to share about your dream home. Samuel Scott will get you a copy of the guide and help you with any other lending needs you might have.