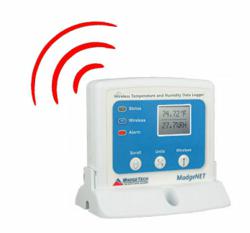 Warner, NH 03278 (PRWEB) February 28, 2013
The recently released RFRHTemp2000A and the RFTCTemp2000A wireless data loggers are configurable by the user to initiate an audible warning at desired thresholds. The RFRHTemp2000A contains a user programmable temperature and humidity alarm. The RFTCTemp2000A allows for a programmable temperature alarm on the thermocouple channel.
The additional feature of audible alarms is of great benefit to users by alerting personnel in the vicinity at the very moment data limits are breached, allowing for fast action in a tightly controlled environment.
MadgeTech will be continuing to roll out new wireless data logger models over the next 8 months that will record parameters such as current, voltage, digital signals and more!
For more information on any of MadgeTech's loggers or logging systems, visit http://www.MadgeTech.com or call (603) 456-2011.