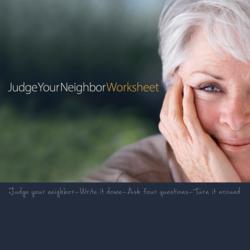 There's only one thought to question: the one appearing now.
Ojai, CA (PRWEB) February 28, 2013
For over two decades, Katie has used her Judge-Your-Neighbor Worksheet to help millions of people identify and question their stressful thoughts. Now this simple yet powerful process is available for the iPad; it includes an instructional video of Katie doing The Work, help screens, and the ability to easily email the Worksheets.
The Judge-Your-Neighbor Worksheet app allows users to type in their stressful thoughts and investigate each of them with the four questions and the turnarounds of The Work. It is simple, thorough, and easy to use.
See on iTunes: http://bit.ly/ZEZupB
Byron Katie has one job: to show people how to end their suffering. She has been bringing freedom to millions of people around the world for more than twenty years through her website (where everything you need in order to do The Work is free), public events, weekend workshops, the nine-day School for The Work, and her 28-day residential Turnaround House program. Byron Katie is the author of three bestselling books: Loving What Is, I Need Your Love—Is That True?, and A Thousand Names for Joy; her other books are Question Your Thinking—Change the World, Who Would You Be Without Your Story? Peace in the Present Moment (with Eckhart Tolle), and, for children, Tiger-Tiger, Is It True? For more information, visit http://www.thework.com.
Contact Info:
Byron Katie International
805.444.5799
800.985.2843
registration(at)thework(dot)com